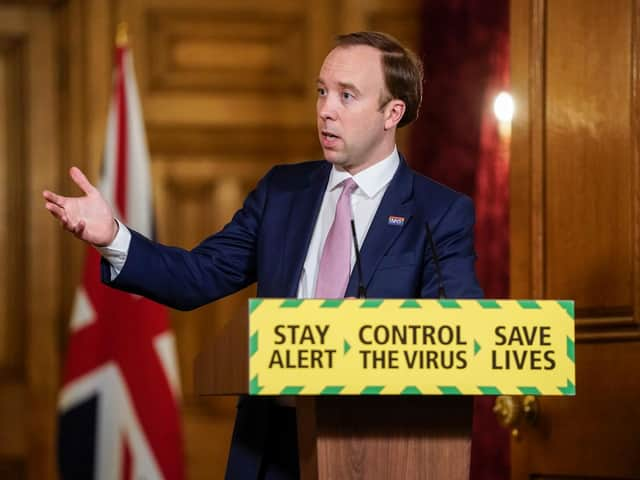 Health Secretary Matt Hancock. Photo: PA
Figures released today showed 8,117 people who tested positive for Covid-19 in England had their case transferred to the NHS Test and Trace programme in its first week , of whom 5,407 (67 per cent) were reached, while 2,710 (33 per cent) did not provide information about their contacts or could not be reached.
Overall, 31,794 contacts were identified and, of these, 26,985 were reached and advised to self-isolate – 85 per cent of the total number of contacts.
Of the remaining 15 per cent (4,809), some were not reached, others said they were already taking action independently of the system and some simply refused to comply. People are contacted 10 times in a 24-hour period.
Mr Hancock said the system was performing beyond his expectations despite figures showing a third of positive cases could not be reached.
He told the Downing Street press conference: "I think that the system has worked well and to get two-thirds in the first week of operation, it beat my expectations.
"Then to have the vast majority – 85 per cent – of the contacts that were given self-isolating, that beat my expectations too."
Baroness Harding, the head of the programme, said improvements were being made, including in identifying when the best time of day to contact people would be.
"Over the course of the last two weeks we have already been testing and learning and improving – and will continue to do that – to find what times of day and what means are easiest to reach people," she said.
Earlier in the day Lady Harding admitted improvements were needed but said the system was "fit for purpose" and most contacts complied with the instructions.
"We are not at the gold standard yet that we want to be, of isolating all contacts within 48 hours of someone requesting a test," Lady Harding said. "But you can absolutely see the path of how we are going to get there."
Mr Hancock said people had a "civic duty" to work with the system.
But the Independent SAGE group of scientists said it was extremely concerned that the system was picking up contacts from only 25 per cent of estimated symptomatic infections.
"The Government's own SAGE committee says that 80 per cent of the contacts of all symptomatic cases must be found and isolated in order to stop the virus spreading further," it said.
Sir David King, Independent SAGE chairman, said: "It is of course reasonable to expect that the first week of a new programme like this will have teething problems however these figures are alarming."