Contact lenses open doors to a world of possibilities for sporty Alfie from Doncaster
Young athletes are being encouraged to experience the many benefits of contact lenses after a Thorne optician has seen success in how they are transforming the lifestyles of active youngsters.
Watch more of our videos on Shots! 
and live on Freeview channel 276
Visit Shots! now
Sporty Alfie Metcalf, who is 11 from Hatfield, has worn glasses since the age of three, has found that contact lenses have improved his sporting performance and his confidence.
Rebecca Metcalf, Alfie's mother, said: "Contact lenses have allowed Alfie to experience the life of a child that doesn't need glasses.
"Alfie takes part in taekwondo and during his sparring sessions needs to wear protective helmets, which don't accommodate the use of glasses. Prior to wearing contact lenses, Alfie needed to remove his glasses which gave him impaired vision and he couldn't focus on his opponent. This resulted in him losing confidence and enjoyment in the sport.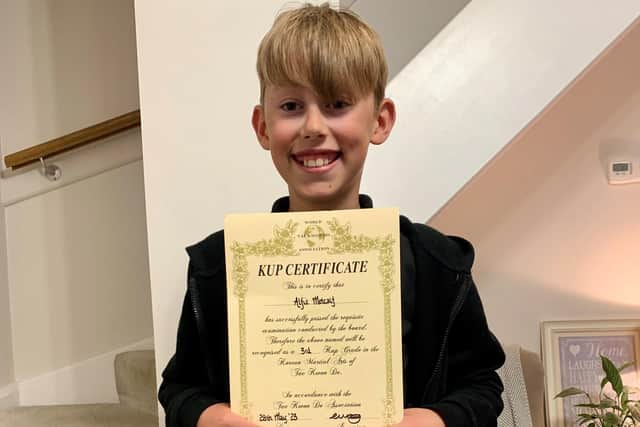 "Thanks to his contact lenses, Alfie now enjoys taekwondo again and has been able to try activities he previously wouldn't have been able to. He now has freedom and doesn't need to worry about his glasses falling off, getting in the way or changing his appearance."
Alfie was introduced to contact lenses at the age of nine through the Thorne store after noticing his glasses were becoming an obstacle to his increasingly active lifestyle.
Lucy Siddall, contact lens optician at Specsavers Thorne who helped Alfie said: "I've been fitting contact lenses for 15 years and have always been an advocate for introducing younger customers to them. Young customers tend to have an active lifestyle and on occasions glasses can hold them back.
"I met with Alfie over a series of weeks, giving him support in how to apply and remove the lenses. We built up a rapport with each other and tried a couple of different lens styles until we found one that worked best for him. He was able to take his lenses away to try in the scenarios he wanted to use them in and gained confidence in putting them in himself and has now been using them for the past six months.
"Many parents might assume their child may be too young for contact lenses, which isn't the case, with children from 10 years old typically being able to wear them. However, we will always review this on a case-by-case basis and are led by how comfortable our patients feel.
"Contact lenses sit directly on the eye's surface so no matter where a patient looks, their entire field of vision always stay in focus without the distortion, reflections or interference which at times can be experienced with glasses.
"Alfie is a fantastic young man and I'm lucky to be able to see how much contact lenses have changed his life and will, hopefully, continue into the next phase of his life."
Rebecca added: "We can't thank Lucy enough for her kindness, patience and expertise. She's supported Alfie all the way with phone calls, check-ups, and encouragement."
While putting something in a child's eye may appear daunting at first, contact lenses are easy to use. The team at Thorne is committed to working with parents and children to find the right contact lens solution for their unique needs and are on hand to offer advice, answer any questions and eliminate misconceptions.