Deaf student Keira, 14, dreams of becoming a teacher
A pupil from Doncaster School for the Deaf has set her sights on becoming a teacher so she can support deaf children in the UK and further afield.
Watch more of our videos on Shots! 
and live on Freeview channel 276
Visit Shots! now
Keira Burnett, aged 14, who is from Barnsley, has also been using her platforms on social media for good as she aims to show that deaf people can do anything they want to, the same as hearing people, and to raise awareness of British Sign Language (BSL).
The Y9 pupil has been deaf all her life and is the only deaf member of her hearing family.
Keira said: "I was born deaf but I'm from a hearing family so I'm the only person in my family who is deaf. This means I have to get on with living in the hearing world by speaking and chatting with others as much as I can. I try to lip read some words, although I don't fully lip read just catch different words wherever I can, but I feel I belong in the hearing world as much as the deaf community because out of school I'm always with hearing people so I do have to adapt and find ways to communicate as best I can.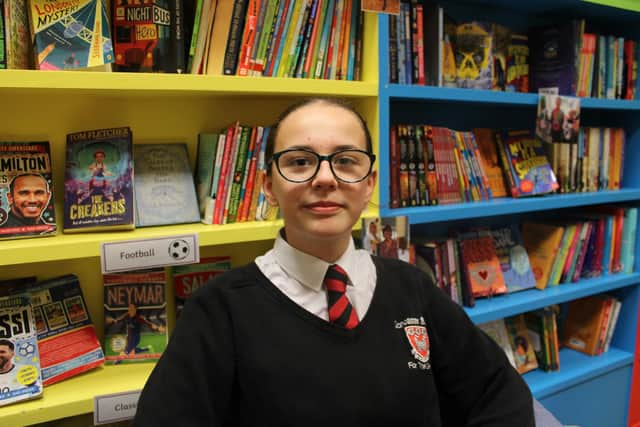 "I am an influencer on social media, which means that I post things that are of interest to me and others. My main aim is to try to impact people positively and share things about the deaf world.
"It's really important to me to show that deaf people can do anything they want to, the same as hearing people. I'd love there to be more awareness and teaching of BSL for hearing people which, in turn, will help raise the profile of deaf awareness more widely.
"I want to do well at school and then in the future become a teacher and teach deaf children in the UK or in different countries as well. I have lots of exciting plans that I am working hard towards so I can reach my goals."
Keira has been a pupil for Doncaster School for the Deaf, which is managed by Doncaster Deaf Trust, for over ten years now.
Added Keira: "I have been a pupil at Doncaster School for the Deaf for a long time which has been lovely for me as it's meant I haven't needed to attend any other school, so I really feel part of the family here.
"The best thing about being at the school is being with my friends. I have great communication with everybody, and I can get along with the staff and the teachers easily. Everyone uses British Sign Language (BSL) to teach me and there's support with one-to-one work when needed. It's all very visual, such as using whiteboards, and that helps me with my learning.
"I also enjoy it because I am around people who are deaf as everyone can understand me. They all use BSL which is my first language and I can sign with everybody which is great when it comes to helping me make new friends.
"Outside of school, I like football, the arts and playing sports. As I am deaf, I can show other deaf people what is like as you get older and that you can do anything like anyone else."
Jane Goodman, headteacher at Doncaster School for the Deaf, said: "Keira is a wonderful example of a young person who is flourishing here at Doncaster School for the Deaf. She tries so hard with her studies, is involved in lots of activities outside of school and is using her experiences to try and raise awareness of BSL and the deaf world.
"She is in a unique position of being deaf but part of a hearing family, so she has a real insight that she hopes to share with others in the future as a teacher. Our school and her family are very proud of her, and I have no doubt she will go on to achieve her dreams."