Children 'at risk' as Doncaster stadium nursery branded inadequate in damning Ofsted report
A damning Ofsted report into a day nursery within Doncaster's Eco Power Stadium has said children are at risk after the venue was branded 'inadequte' by inspections chiefs.
Watch more of our videos on Shots! 
and live on Freeview channel 276
Visit Shots! now
The Stadium Stars Nursery came under fire for its provision for children, describing it as a "chaotic and disorderly environment" and added: "Staff do not support children to learn safe behaviours."
Inspectors described the nursery's overall effectiveness as inadequate, giving the same rating to the quality of education, behaviour and attitudes, personal development as well as leadership and management.
The report said: "The provision is inadequate.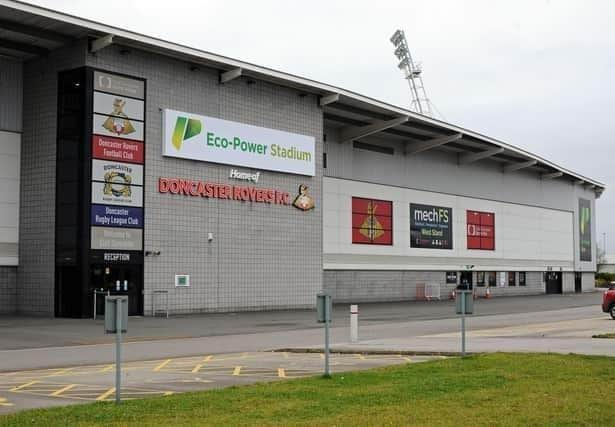 "Children's individual needs are not met. Weaknesses in staff's safeguarding knowledge result in children's welfare not being maintained.
"Staffing issues are having a detrimental impact on the quality of provision for all children.
"Due to staff leaving, children are no longer cared for by consistent staff.
"Staff covering in the nursery have received no induction, so they are unfamiliar with policies, routines, and children's individual needs.
"This, along with the lack of organisation of the room and resources, leads to a chaotic and disorderly environment, where children's needs are not met."
It added: "Children climb over low-level dividers between two areas of the room, with staff failing to manage this behaviour appropriately or consistently. While some staff try to engage children, quality interactions are limited due to staff being unfamiliar with the nursery and children's individual needs.
"Children with special educational needs and/or disabilities regularly wander around with little to no support or staff engagement. This prevents children from achieving and making progress.
"There is a basic routine in place, which includes singing, story time, and mealtimes.
"However, opportunities for children to engage in quality learning experiences in line with their developmental needs are limited.
The report added: "Leadership and management show a lack of capacity to sustain and maintain improvement. As some areas of prior weakness are improved upon, other areas of weakness emerge.
"For example, safety of children on outings has improved, as has the cleanliness of the nursery room. However, weaknesses with the curriculum, staff's child protection knowledge and induction of new staff result in children's needs not being met and prevent staff from building on children's prior knowledge and skills.
"Management has failed to assign children to consistent areas, resulting in confusion for the staff and children. The resources children can access are limited, especially in the area for younger children.
"As children regularly climb between the area, this is not managed by staff effectively. Staff do not support children to learn safe behaviours. They do not consistently challenge children or help them to learn why climbing over resources to get into other areas of the room is not acceptable or appropriate."
"Staff are unfamiliar with the skills and knowledge management would like children to develop. Staff monitor children's progress but fail to use this information to plan purposeful experiences for each child.
"Staff working with younger children provide them with lots of singing and stories, with little else planned for them to engage in. When experiences are provided, these are focused on what children enjoy doing rather than the skills they can promote.
"Agency and new staff are given no instructions so are unclear of their roles. When some children refuse to participate, staff do not know how to manage this until it is resolved by the operations manager. This results in children becoming restless as they wait.
"A lot of older children continue to have a dummy, even when they show they feel settled and secure. Staff are unaware of the negative impact dummies can have on children's speech. This means that staff do not discourage their use in nursery.
"Story and singing times are sometimes too long and background music too loud, resulting in children losing focus. At other times, when children choose not to engage, they wander around the room unsupported by any staff.
It went on: "Upset children are sometimes not comforted appropriately. When children injure themselves, staff offer words of reassurance, but little is done to review the potential injury or provide physical comfort. This results in children remaining upset for longer than necessary. When children are unsettled after sleeping, staff offer them no comfort as they place them onto the floor while they are crying. This does not support children's emotional well-being."
Focusing on safeguarding issues, the inspection report added: "The arrangements for safeguarding are not effective.
"Staff have a sound awareness of the indicators associated with the four main types of abuse. However, some staff lack knowledge of possible indicators associated with abuse in the wider community, including aspects like radicalisation.
"Management has secure recruitment and vetting procedures in place. However, while there is a sound induction procedure, management has failed to implement this with new staff. This means that these staff are unfamiliar with policies, routines and where specific records and documents are located.
"The provision is inadequate and Ofsted intends to take enforcement action. We will issue a Welfare Requirements Notice requiring the provider to ensure staff have an up-to-date knowledge of all indicators of abuse, including any reasons to suspect abuse and neglect outside of the setting, ensure staff understand the procedures, to follow if they have any child protection concerns about a child and/or if an allegation is made against a staff member."
It said it will also ensure the premises and equipment are consistently organised so that children's individual needs are met and ensure arrangements are in place to support children with SEND so that they benefit from effective planning and quality interactions to meet their needs.
The nursery, which offers fully day care to children aged from birth to four, had 34 children on roll at the time of the inspection.