Doncaster swimming pool set to re-open after a decade
One of Doncaster's former swimming pools is set to re-open – a decade after it was last used.
Wednesday, 5th February 2020, 11:45 am
Updated
Tuesday, 25th February 2020, 12:38 pm
The pool in the grounds of Rossington Hall will be in operation for the first time for 12 years, operated by a firm which operates swimming lessons, with the first sessions expected to be in the next few weeks.
Rachel Turner, who runs Super Swimmers, confirmed work to bring the pool was well under way, and expects it to be open by the end of the month.
Her business currently provides swimming lessons.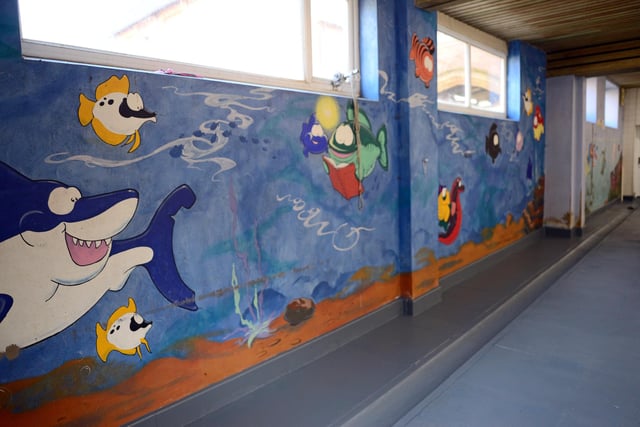 The Swiming Pool features wall murals which were painted in the late 90's. Picture: NDFP-04-02-20 Super Swimmers 6-NMSY
The pool is a 12m pool, and was used in the past by pupils at Rossington Hall School, when the site was a special school for children with autism.
The pool was built in the early 1970s.
Rachel's firm has brought in new pumping and heating and filtration equipment so that the pool can be brought back into use.
She said: "We're hoping to offer all sorts of things. We will run lessons here, but we also plan to open it up for family swimming sessions."
Super Swimmers Directors Ryan Plant and Rachel Turner, pictured. Picture: NDFP-04-02-20 Super Swimmers 3-NMSY
Rossington Hall is now a hotel, but the hotel will not be running the pool. But it is expected to be available for guests at the hotel to use eventually.
Rachel and her business partner, Ryan Plant, are both from Rossington, and Rachel's grandmother worked at Rossington Hall when it was still used as a school.
She said: "We have changed one of the rooms so parents will be able to sit and get a coffee. We found all sorts of things while we were getting it ready, including old branding irons! It all adds to the character of the place.
"My grandmother used to love it here. She became friends with some of the pupils' families."
Super Swimmers Directors Ryan Plant and Rachel Turner, pictured. Picture: NDFP-04-02-20 Super Swimmers 2-NMSY
Rossington Hall hall was originally built on the site in 1771 as a family home, rebuilt in 1881 after a fire. It was later taken over by Doncaster Council and run as a special school until it closed in 2008. Businessman Gary Gee and wife Michelle took it over in 2011, bringing it into use as a hotel.