Doncaster pizza company forced to close Wool Market stall due to rent increase
A popular pizza business has been forced to close its market stall due to a series of cost increases.
Watch more of our videos on Shots! 
and live on Freeview channel 276
Visit Shots! now
On Sunday (29 October) the owners of Doncaster business Rustic Pizza Co announced that their Wool Market stall would be closing with immediate effect.
Lee and Sian Ogley began the company as a mobile street food business in 2017 and opened its first permanent stall at the market in 2019.
Since, it has expanded with new restaurants at Forge Island in Rotherham and Doncaster's Lakeside.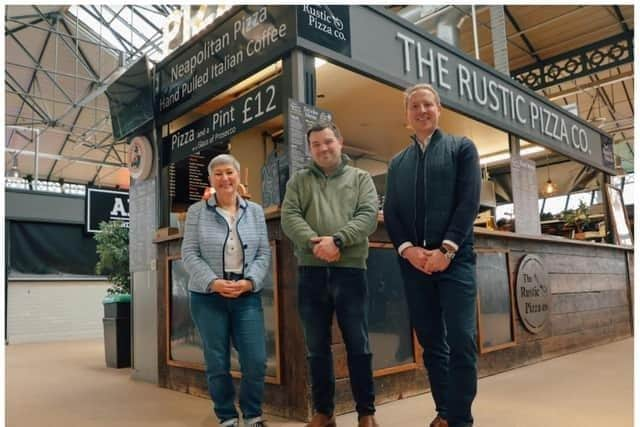 The owners stated that the branch's closure was due to several cost increases implemented by Market Asset Management, which took ownership of Doncaster and Mexborough's markets in 2019.
In May this year, existing stallholders were asked to accept a contract change which would increase their rent to 20 percent of their annual turnover.
Rustic Pizza Co wrote: "Because we had grown our business and were successful, they thought this was unfair that we should still be paying our agreed rent! We still had 2 and half years left on our current lease but MAM can end those leases with 6 months' notice for no reason as written in the lease.
"We put an offer to MAM to cap the yearly rent at £40,000 but this was rejected! We were then served notice to leave in January 2024. £40,000 for a market stall that you have no control over when it can open or close. You need to ask permission to change any food on your menu or ask what drinks you can sell.
"I think we can all agree this is way above market value and limiting trade restrictions enforced .
"On top of this rent we need to pay for storage and utilities, they say that 20% is market value but when we have investigated this, we found a few venues do charge 20% – 25% but this is inclusive of all costs.
"Last week we also received a letter informing of an immediate increase in electrics costs from £0.25p to £0.39p per unit. Unless we increase our prices to greater than our restaurant which we are not willing to do, this makes the Wool Market unviable as a business.
"MAM mention the Wool Market is running at a loss but forget they removed 24 retail units with the potential to earn £400K a year in rent.
"We wish all the traders in there all the success but for now we focus on our new venture."
Alongside increases in rent and utilities, VAT charges were added to traders bills this year.
Discussing this year's rent increase, Market Asset Management said previously: "The Wool Market kitchens and bars operate on a turnover-based rent which is normal for food hall models to support the weekly free entertainment and marketing the visitors to the Wool Market enjoy, in addition to electricity, staffing, security, heating, water, cleaning and building maintenance costs. There are no yearly adjustments made for inflation, nor is there an ability to renegotiate rents.
"A small number of the tenants are on original leases which means they only pay a tiny percentage of their turnover in rent compared to the rest of the tenants, while benefiting from all of the work put into making the Wool Market a success. Because of this, the Wool Market's operating costs must be subsidised by the rest of the Doncaster Market estate.
"The businesses on these original leases turned over nearly £1.2m last year but only paid £52k in rent, making it unfair for the rest of the Wool Market businesses and the market traders across the whole market estate.
"Following discussions with Doncaster Council, we have agreed to write to these businesses as part of our wish to renegotiate these leases to gradually bring them in line with the rest of the Wool Market and the wider industry.
"We hope existing Wool Market traders will stay and agree the new rent contracts.
"Doncaster Market is home to fantastic independent traders who are a big part of our success as a venue where people love to come and shop, eat, drink and be entertained and we are sorry we have had to take this step, but we must be fair to all traders and the rising costs we are seeing."