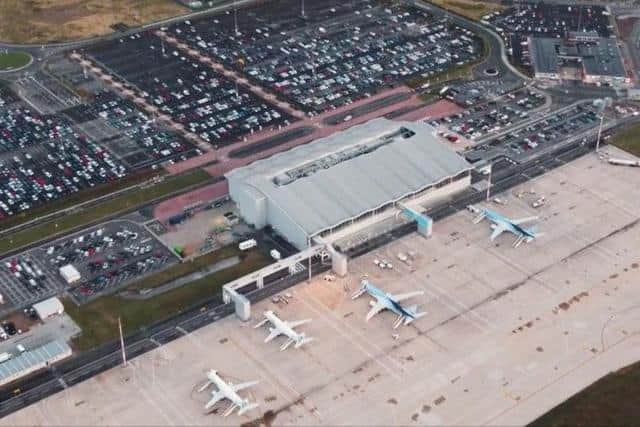 Opportunities for generating increased trade at ports in Doncaster such as the Doncaster Sheffield Airport are emerging
Doncaster business has been 'hit hard' with extra paperwork and 'delays in supplies' arising from Brexit but firms are starting to explore markets further afield, a report has said.
Council bosses in an update to councillors said that the UK's withdrawal from the European Union (EU) is 'yet to fully play out' in Doncaster but some effects have been felt already.
The report also revealed that just under 24,000 EU residents living in Doncaster applied for settled status. Figures available up to March 2021 confirmed that 23,580 applications had been received by the Home Office from residents in Doncaster. Of these, 21,970 had been processed with 96 per cent securing settled and pre-settled status.
On Doncaster business, bosses said they have been 'hit hard' by the increase in paperwork and 'intermittent delays' in supplies.
Doncaster Chamber and Business Doncaster are said to be working with companies that import and export to the EU.
But council bosses added that the UK is now free to determine new trading agreements with non EU countries – including 'emerging markets in South America' which are 'already on the radar' of Doncaster companies.
On regulations and borders, inspections of both import and exports are said to have increased but 'opportunities for generating increased trade at ports' in Doncaster such as the Doncaster Sheffield Airport and IPort are 'emerging', bosses added.
The report also said that some fresh food 'may have intermittent supply' until 'new systems are bedded in' but opportunities are said to now exist for local supply chains to 'grow as a trusted source'.
Sennette Wroot, senior policy and insight manager at DMBC, said: "Chaired by the council, a multi-agency forum ensured a timely review of the risks associated with the end of the Brexit Transition period and the start of the UK's new relationship with the EU from January 1, 2021.
"Building on experience of similar meetings in 2019 and 2020, a system of rated risks were considered at each meeting. In addition, the Government has provided £220,000 to the Council to support the transition process in Doncaster.
"A collaborative effort has aimed to ensure that Doncaster business and communities are as resilient as possible and information gets to the relevant organisations and residents.
"The Council has led an awareness campaign through social media posts, websites and newsletters to raise the profile of issues, in particular signposting support for businesses and the EU Settlement Scheme to local residents .
"The impact of the UK's new relationship with the EU is yet to fully play out. The SRO forum will continue to meet into quarter 2 (2021/22) to ensure continuity of oversight and targeting of support."