Digital Innovation Grant: how to apply in South Yorkshire
Businesses across South Yorkshire thinking of harnessing digital technology to drive growth can access a match-funded grant funding through the Digital Innovation Grant scheme.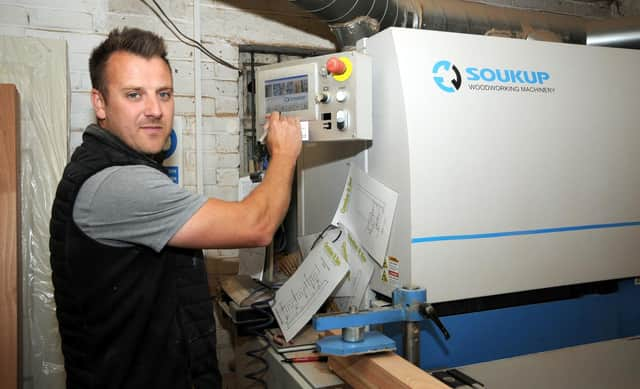 Lee Crookes, Crookes & Son Traditional Joinery
The Digital Innovation Grant scheme will provide eligible businesses with grant funding worth between £1,000 and £5,000 to match fund digital projects worth up to £10,000. Fifty percent of the project costs will be funded by the grant, which can be used to help businesses overcome barriers to growth by embracing digital technology.
The programme is open to small and medium-sized businesses which are based in South Yorkshire. Since its launch in August 2021, the Digital Innovation Grant funding has helped over 140 SMEs across South Yorkshire to access nearly £508,000 in grant funding. The programme is part funded by the European Regional Development Fund and delivered by Enterprising Barnsley, part of Barnsley Metropolitan Borough Council.
Eligible businesses can apply for grant funding during each application round. The current round will close to new applications on Friday 15th July, however, subject to funding, future rounds are planned in September and November. Details of when future funding rounds open will be published on the Enterprising Barnsley website.
Amanda Pearce, Director, Diva Creative
The grant is designed to help businesses increase productivity by embracing new forms of technology. One recent beneficiary of the grant was Sheffield-based creative agency Diva, which drew on inspiration from the popular augmented reality game Pokemon Go to create interactive stories aimed at supporting work in the tourism industry.
All applications received will be judged on merit, rather than a first come, first served basis and videos explaining how to apply, can also be found here.
What can the grants be used for?
Digital Innovation Grants can be used for a range of different purposes, but are designed to help SME businesses use technology to fuel growth. Examples of projects considered under the grant scheme include:
- Client Relationship Management systems
- New software development
- Remote monitoring and working solutions
- Collaboration technologies
- Large data transfer solutions
- Live high-quality video streaming
- Voice over Internet Protocol (VoIP)
- Integration and consultancy costs
How does the grant scheme work?
Grant funding is available to support projects which have a total cost of between £2,000 - £10,000. The applicant must contribute 50% of the project costs which will be match funded by the Digital Innovation Grant.
If your application is successful, the Digital Innovation Grant scheme will fund 50% of the costs of your completed project upon submission of a grant claim including evidence of payment.
Successful applicants will be issued with a Grant Offer Letter within 20 working days of the decision by the Grant Assessment Panel, with successful applicants in the July22 round being notified by Friday 19th August.
Amanda Pearce, Director, Diva Creative said: "Storytelling is at the very heart of the way we communicate with others. We recognised that combining emerging tech such as augmented reality with GPS and features such as 360 video offer new, exciting immersive ways of engaging and entertaining consumers.
"After nearly two years of research and development we are ready to bring the product to market, and the funds provided by the Digital Innovation Grant really supported us on our journey. We are now investment ready and are in talks with a number of potential partners, with the potential for spin out."
Lee Crookes, Crookes & Son Traditional Joinery: "Specialist equipment can be a significant business investment. As a small family-run business, we knew that although purchasing the mortice and tenon machine would help us to increase our levels of production, to make the most of the machine we would also need to invest in the CNC software, which would automate many of the processes we previously did by hand. We spoke to Business Sheffield, who told us about the Digital Innovation Grant scheme, and with funds in place it transformed our business almost overnight."
What other help is available to support my business?