Doncaster's Labour MPs discuss 'harrowing' cost-of-living report
The two Labour MPs for Doncaster have commented on a recent report on how the cost-of-living crisis has affected the city.
Watch more of our videos on Shots! 
and live on Freeview channel 276
Visit Shots! now
Citizens Advice Doncaster Borough launched the results of its study into the effects of the cost-of-living crisis for residents.
The study found that people in Doncaster have been significantly affected by a number of issues including rising costs of energy, fuel and essentials.
Some 74.6 percent of residents have had to cut back on spending, while 75 percent have had to eat less or skip meals.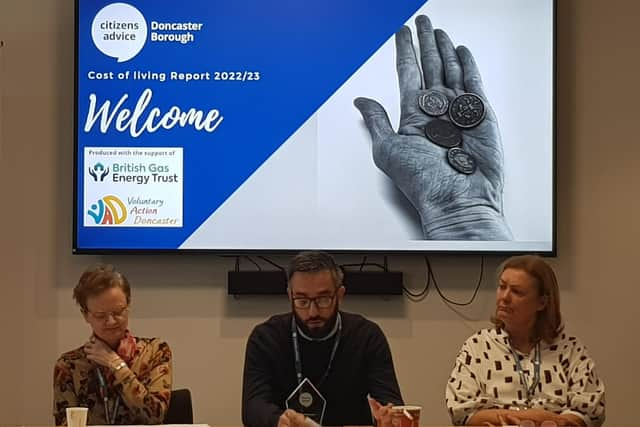 Ed Miliband, wh is the Memember of Parliament for Doncaster North, attended the presentation of the report which took place last week.
He said: "The statistics in the report make sober reading.
"Doncaster Citizens Advice are seeing more and more complex cases where people are struggling with increased costs relating to housing, energy and other living costs. These are also having a big impact on people's mental and physical health and we are potentially heading towards a debt crisis.
"I have worked closely with Citizens Advice both nationally and here in Doncaster, on a range of issues including stopping the rise in energy bills and calling a halt to the forced installation of pre-payment meters.
"I am incredibly grateful for the support James Woods and his brilliant team provide to residents in Doncaster and I know from conversations I've had with people what a difference they make. If you are struggling to pay your bills or you are struggling with debt, don't hesitate to get in touch with Doncaster Citizens Advice. Contact details are available by visiting this website – https://www.cadoncasterborough.org/get-advice/
Dame Rosie Winterton, the MP for Doncaster Central, said: "This timely report is a deeply harrowing read, highlighting the increasing pressures on Doncaster residents as the cost of living crisis continues.
"Whilst it does not make for pleasant reading, the information gathered by Citizens Advice Doncaster Borough (CADB) is absolutely essential in identifying the problems that many people are facing and in seeking out tangible solutions as well.
"I pay tribute to the good work of CADB in not only collating this information and drawing up this report, but going on to then provide a number of measures to strengthen the services they provide and better target them to local concerns.
"Whilst the cost of living crisis ultimately can only be resolved by Government action, there are still decisions that can be made at a local level in order to alleviate some of the pressures people are feeling. I meet regularly with CADB and am consistently impressed by their dedication and breadth of knowledge, I would wholeheartedly recommend anyone with concerns surrounding money management to contact them."
She continued: "This report also recommends building upon existing collaboration between the Council and local charities and, in my capacity as Chair of Doncaster's Fairness and Wellbeing Commission – which CADB CEO James Woods also sits on as a member, this is work that I will be undertaking to make life a little easier for people in Doncaster."