New Doncaster art gallery's 'Marmite' collection offers something for everyone
Some fifty or so years ago, there was a furniture and electrical store in Scot Lane in Doncaster, a road which leads from the Mansion House to the market.
Saturday, 19th June 2021, 4:36 pm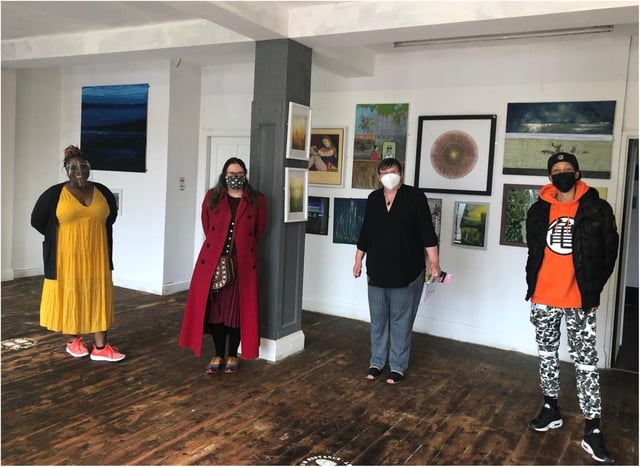 D31 Art Gallery is a new addition to Doncaster's arts scene.
Today, it is a thoroughfare of small independent businesses, a couple of charity outlets, a celebrated shoe shop, and now also to a remarkable new enterprise at Number 31.
Where once they sold three-piece suites, Dansette record-players and Fergusson televisions as well as "floor coverings", there is now a new gallery, which occupies the entire upper floors of the building.
That (by the way) is three floors above the ground one, all connected by stairs – there is no lift nor (as yet) disabled access.
You have to be fit, and very determined, to enjoy all of D31.
Is it worth the effort? Very much so.
The current exhibition, which runs through until July 20, has no less than seventy artists (local, national and International) on display, and they have contributed a total of very nearly 300 works.
There is photography. Graphic art. Ceramics, Oils, watercolours. Pieces in pot, and in pencil.
And it has all been hung in what the organisers describe as "salon style", meaning that the community group who have owned this remarkable venue, were each given responsibility for a wall, or space, and asked to choose what they liked, and thought appropriate, to fill it.
The result that you will find a vibrantly coloured screen-print (some would make astonishingly original designs for bolts of cloth) next to a modest portrait, or a view of a dappled woodland adjacent to a whizz-bang acrylic.
Simultaneously, it makes no sense at all, because the numbers and styles of the works are jumbled about piecemeal, and what seems to be at random, while at the same time it is visually (quite literally) a major eye-opener.
There is much to enjoy here, and something for everyone – unless you happen to enjoy the Bob Ross style of "art", for everything is of a far higher standard than his whimsical meandering canvases.
No-one, we can be grateful, has chosen to imitate his "style".
But this is very much a "Marmite" collection, for someone who loves X might be completely nonplussed by Y.
But, as a collection which has come from (in the large part) creatives who have found new means of expression as the pandemic has confined them to their own studios, it is both innovative and celebratory of the talent we have in the region, and beyond.
Among the works are several by Andy Hollingsworth (his Clock Tower Café shows a cosy little haven somewhere on the coast) and Katrine Barber's ceramics have fluidity and an individual grace of line.
Terry Chip is a fine portraitist, and captures the unique essence of his subjects – his chorus girls are more Donny than Degas, but their individuality shines out, particularly in "Blue Dancer".
And Madeline Pick, in The Blot, asks the viewer to look more closely at the structure she has brought to this collagraph print. Are those laths and beams of an unloved structure?
In any event, it's a sepia showstopper. With one exception, everything is for sale.
The good news is that a fresh summer exhibition is planned for late July. D31 Gallery is bringing a little spring back to our step, and their efforts need every encouragement.
D31 Gallery, Scot Lane, Doncaster Tel: 01302 367181