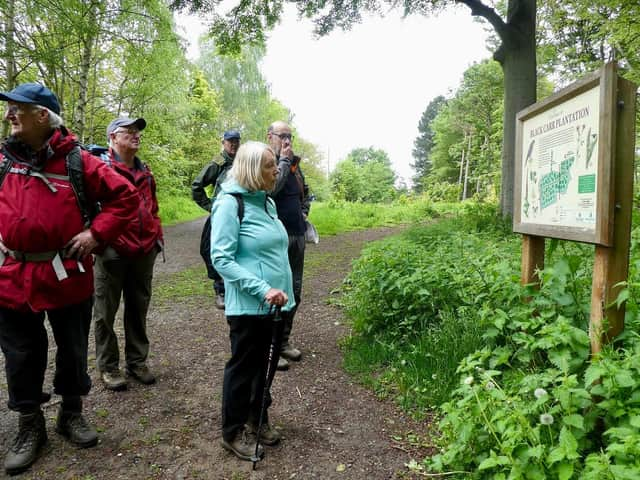 Black Carr Plantation
Walk leader Bob briefed 15 of us as we met at the Vue Cinema car park and very soon we were walking alongside the racecourse and into Sandall Beat Woods, crossing the railway line and on to the landfill site more commonly known as Markham Main colliery.
The pit was sunk in 1916 and was worked briefly before stopping because of the war. Work continued in 1922.
The site cost around £1 million and a model village for the pit (Armthorpe) was built.
For many years it was used as a training pit for the local area, with a training tunnel.
In the 1950s it had around 2,700 workers.
A domestic fuel processing plant was built in 1966 and in the mid 1980s the pit had around 1,500 employees.
When the miners' strike finished in 1985, Markham Main was the last Yorkshire pit to return to work.
On its initial closure in 1992, it had around 700 workers.
The colliery fully closed in 1996 when it had an estimated 50,000,000 tonnes of coal reserves.
The site is now a housing estate, next to Sandall Beat Wood.
Between 1920 and 1996, 87 miners died at the pit.
We enjoyed our coffee break on the pit-top where Bob gave us the history before heading down towards Cantley, passing the site of Cantley Hall, with its walled garden and heated walls.
We then briefly walked alongside the M18, built between 1967 and 79, before passing through Black Carr Plantation and then Hatchell Wood, here we stopped for lunch around the pond.
After lunch we continued through the Manor Farm development, for a while walking between wire screens to keep us safe from new building work.
We completed the walk by following the Doncaster Greenway to Lakeside, where we did a circuit of the lake before returning to the Vue Cinema and its huge car park. Thanks to Bob for leading a very interesting local walk of 10.5 miles, and to Brian for back-marking.
Remember while out observe social distancing, carry a mask, hand sanitiser, and gloves. Obey the Countryside Code and give way to other walkers.
Doncaster Ramblers have had a programme of Tuesday and Saturday walks, mostly between eight and eleven miles for about 30 years.
The location of these walks varies from walks local in the Doncaster area like Tickhill, Sykehouse or Askern, to walks in the Derbyshire Peak District, Nottinghamshire, Lincolnshire and West Yorkshire.