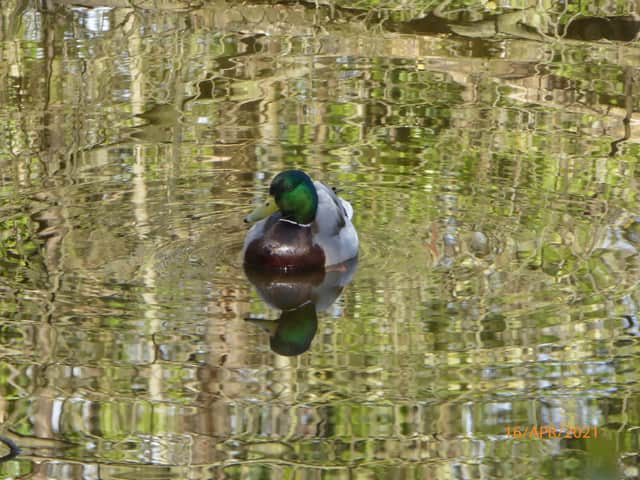 Duck on the lake
No boat was required today as we stayed firmly on land for this five and a half mile circular route. Among the 10 who'd booked (last minute or not) were the usual regular reprobates (block bookers) and we love having them, but there was also two we'd not seen since lockdown, (welcome back) and one newcomer.
Langold Lake is a magnet for families and its lovely to see young children relaxing having fun, but we were heading off the beaten track on a route we had done many times before.
First heading along the north shore of Langold Lake then over a footbridge to the south shore of a smaller more obscure pond, doing our best not to disturb the occasional angler deep in concentration, or maybe asleep as we wondered by.
A right turn at the lake end took us north and our first encounter with the bright yellow of oil seed rape.
Startling on the eye and thought a long-abandoned crop, but no here it was, let's hope we don't have to walk through it!
Passing the village of Letwell we continued north to Firbeck home to the private racecourse of Anthony St Leger, and St Martin's Church where we stopped for lunch. Everyone seemed in good spirits as we sat among the tombstones discussing the weather, and whether we should walk Thursday and or Friday, and explore the boundaries beyond DMBC. Right now though it was about getting back.
Getting back to the weather it had been kind and the ground under foot was beautifully solid almost drought like which won't please the farmers in these parts. Made easy going for us though as we made our way south through the shaded Dyscarr Wood with its blanket of wild garlic and a fitting end to our countryside amble. And don't forget, as spring is moving on and summer is on the doorstep there's no excuse. Get up get out get walking.
Doncaster Ramblers' rules continue to change regarding outdoor exercise and group activity so please visit our website https://www.doncasterramblers.org.uk/ for latest, including future activity.
You can also follow us on Facebook https://www.facebook.com/doncasterramblers/ for details of past
Rambler outings. Remember while out observe social distancing, carry a mask, hand sanitiser, and gloves. Obey the Countryside Code and give way to other walkers.
In these confusing and worrying times, local journalism is more vital than ever. Thanks to everyone who helps us ask the questions that matter by taking out a subscription or buying a paper. We stand together. Liam Hoden, editor.