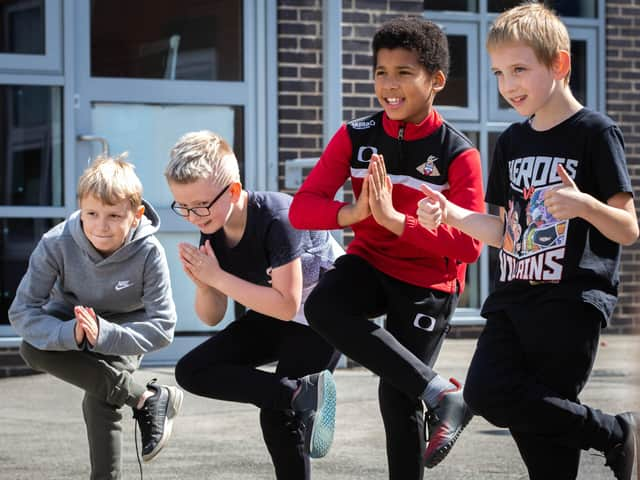 A Southfield Primary School workshop
This summer The Royal Ballet worked in partnership with Cast and Doncaster Council to create a unique community dance film called Doncaster Dances. The project is a first for the dance organisation.
The film has premiered online on the Royal Opera House, Cast and Doncaster Council websites.
Doncaster Dances celebrates individuals and community groups and is inspired by the choreography of Kenneth MacMillan's ballet Romeo and Juliet.
Its themes of love and separation, family, friendship and solidarity have their parallels with lockdown.
The film also features Doncaster local and Royal Ballet dancer Charlotte Tonkinson and colleague Joseph Aumeer.
Residents, primary schools, sports clubs, care homes and dance schools were supported with online resources from the Royal Opera House, alongside remote direction from The Royal Ballet, to learn routines inspired by Romeo and Juliet.
Doncaster Dances is available to view on the Royal Opera House, Cast and Doncaster Council websites.
Last year, the Royal Opera House announced an exciting partnership with Doncaster Creates, including a commitment to work in every borough school over the next three years.
The Royal Ballet was due to perform at Cast in July but both events were postponed due to the pandemic.
This project represents an opportunity for the Royal Ballet to continue its commitment to Doncaster and to bring dance to the community.
Doncaster North MP Ed Miliband helped to establish Doncaster Creates as the region's first cultural community project to harness and nurture the creativity of Doncaster.
Kevin O'Hare, director of The Royal Ballet, said: "The Royal Ballet were determined that the pandemic would not interfere with our plans for engaging with Doncaster residents and sharing the enriching experience of dance.
"Kenneth MacMillan's powerful setting of Romeo and Juliet has always fired the collective imagination and was the perfect springboard for a process of creative exploration during dark times.
"Doncaster Dances has proved just how empowering the arts can be and is a wonderful testament to the resilience of the human spirit. This beautiful film is both poignant and optimistic, demonstrating that everyone in the community, young and old, can unite through dance."
Deborah Ress, director of Cast added: "Cast is delighted to be working in partnership with The Royal Ballet and, despite the pandemic, together we have found a way to engage with Doncaster communities through the inspirational programme Doncaster Dances.
"The end result of this programme is an amazing film showcasing Doncaster's talent and resilience and our thanks go to The Royal Ballet and the people of Doncaster for making this happen.'
Ros Jones, Mayor of Doncaster, said: "This Doncaster Dances premiere is the culmination of a tremendous project with The Royal Ballet.
"It has involved local residents, schools, community groups and care homes from across the borough, giving them the opportunity to learn a new skill, get active and have some fun with dancers from one of the most prestigious ballet companies in the world.
"Making this happen during these most difficult of times is a big achievement."
Thank you to all who support local journalism with a print subscription. The events of 2020 mean trusted, local journalism is more reliant than ever on your support. We couldn't do it without you. Please subscribe here https://www.localsubsplus.co.uk/ so we can keep campaigning on your behalf. Stay safe.