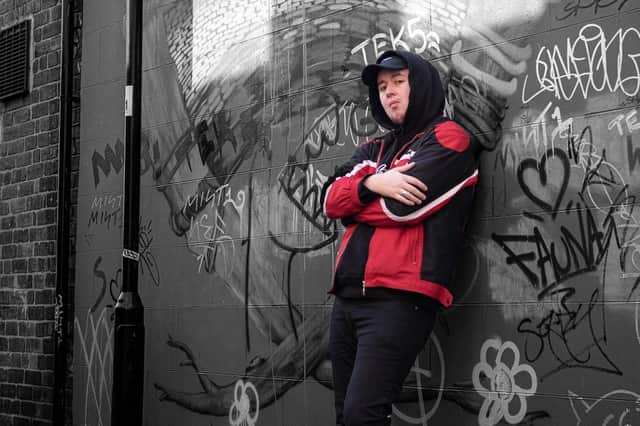 Fabian
And his voice and face may sound and look familiar.
The 20-year-old South Yorkshire singer songwriter is the son of Sheffield's Grammy Award winning producer, writer and singer-songwriter Eliot Kennedy.
LISTEN: Hear his debut Fe Fi Fo (funk It Up) on Spotify – CLICK HERE.
WATCH: Check out the full lyric video for embedded on our YouTube player – or CLICK HERE.
Eliot is the man behind some of the world's biggest pop songs and film hits recorded by Aretha Franklin, Bryan Adams, Celine Dion, The Spice Girls, Mary J Blige, Take That and Dame Shirley Bassey. He had his own first number one aged 25 with Take That's Everything Changes, which he co-wrote with Gary Barlow.
Now following in his footsteps is his son Jack, performing under his middle name, Fabian.
Fe Fi Fo (funk It Up), borrowing memorable words from fairytale Jack and the Beanstalk, is a giant killer of a catchy tune and confirms this Jack's music royalty pedigree – meet the new song prince.
Fabian has been writing songs for some time but had kept his ideas under wraps, until he felt ready.
Fe Fi Fo Funk, which they wrote together in response to Covid and lockdowns, is a unique mix of Eliot's style with Fabian's current musical influences, namely Lolye Carner.
Fabian said: "Lolyle Carner uses old school R'n'B soul tracks and flips them up and makes them into soulful rap. With our single, we've mixed dad's '90s sound with my approach to funk and rap. I haven't heard anyone else do that. Its more funk driven, and you can hear dad's trademark sounds if you listen carefully, the synths are not far away from his Spice Girl's hit, Say You'll Be There."
He feels the single is of its time, now Covid restrictions are being lifted.
Fabian releases debut single Fe Fi Fo (funk It Up)
"I struggled in lockdown, and music helped me look forward to getting out, sitting in the sun, kicking a football around with mates and listening to a good track. I think music was a coping mechanism for many who were stranded in their houses without a clue what to do.
"There's pressure with dad being dad, but it felt the right time. We both had time in lockdown, so I said, do you want to make a song just for a laugh? He said, yeah alright, then we made another one, and he thought, this kid's got a bit of talent!"
He added: "When you're a teenager you're learning how to express yourself and coming out of your shell, but we had two years of losing a social life, so the idea with this song is to give a bit of a kicking to that.
"You connect music with happy moments and memories. It's a positive song. It's not deep or political, it's just about having fun. We need to go back to having fun, and I want everyone to get in a good mood and dance."
Song prince Fabian - son of music royalty Eliot Kennedy
Of the Tik Tok generation, he says he just needs a viral dance behind Fe Fi Fo Funk to break out.
Fabian said: "Tik Tok rules the music industry in terms of building a name for yourself. I may eat my words here, but that algorithm of making content is extraordinary, it opens doors for a lot of artists."
His mum was also a professional singer and he grew up surrounded by famous musicians.
He said: "She was in a girl band, that's how my mum and dad met. He was looking for bands to support the Spice Girls on tour, and she was in one, and the rest is history, I'm here."
"I've always been around famous people, I guess.
"I've been in the studio all my life and around huge stars that people would gasp at, and they're just family to me. As a kid I didn't clock the gravity of it. Gary [Barlow] and my dad are very good mates, so I grew up with his kids when we lived in Cheshire, and Bryan [Adams] is a good friend of my dad so we've been to see him a few times, just to name a few."
Explaining why he's performing as Fabian he explained: "It's my middle name. We were going to go with my initials JFK, but it would be too hard to find me on search engines for obvious reasons. Fabian is unusual, you don't hear it a lot, it's quite a cool name so I thought, that's the one."