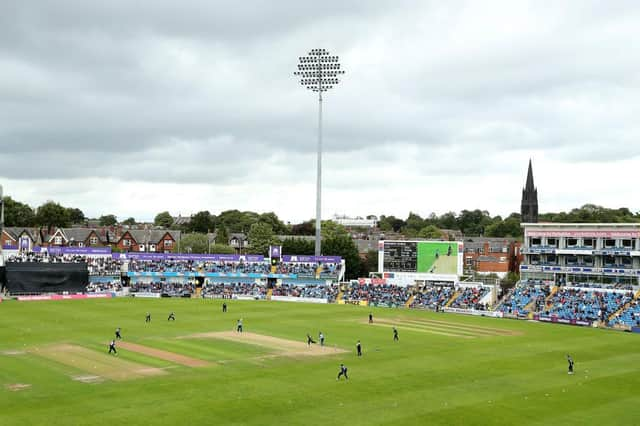 Yorkshire Vikings host Derbyshire Falcons in the T20 Blast last year. Photo by Jan Kruger/Getty Images
Chief executive Mark Arthur said that he is optimistic that members will be allowed to attend games as part of the so-called "spectator pilots".
Successful pilots were held recently at the Oval and Edgbaston, with up to 1,000 spectators attending pre-season friendlies.
However, plans for further pilots and increased attendances were dashed by the government's decision to suspend such events at the end of July, although it is hoped that they will shortly resume across several sports.
Yorkshire, who will play in the T20 North group along with Derbyshire, Durham, Lancashire, Leicestershire and Nottinghamshire, with that competition taking place on the same regional lines as the Bob Willis Trophy, believe they could comfortably accommodate around 5,000 socially-distanced spectators at Headingley.
Clubs will play five home group games in the T20 (Yorkshire will actually play six home games as Derbyshire are unable to play at their own venue as it is being used by the England women) – and hope that some of those will be chosen as pilots.
The government wants to welcome back spectators to sports grounds more widely from October 1.
Arthur said: "I was very hopeful that we would have pilot schemes for our Bob Willis Trophy matches, but with the recent spikes in certain areas that doesn't seem as if that's going to be allowable by the government, but we are hopeful that we will be able to get pilot schemes away for the T20 Blast.
"Things are so fluid with the DCMS (Department for Digital, Culture, Media and Sport), the government and the ECB (England and Wales Cricket Board) that it's difficult to say what will happen, but I would absolutely love to be able to say to our members that a number of them can attend some T20 games.
"As a sport, we've only tested 1,000 spectators at the pilots so far. But we've put our hand up to be part of any future pilots."
Yorkshire will provide a free live stream of their non-televised T20 games on their website so that supporters can follow the action come what may.
Arthur said that he understands the difficult balancing act that all parties are trying to strike between safety on the one hand and the desire to permit crowds on the other, with the situation constantly evolving.
"I understand that the government and the ECB have got a really tough job, and clearly there are priorities other than sport," he said.
"However, we do have very large cricket grounds, and we would be able to host in reality 30 per cent of our normal capacity quite comfortably at Emerald Headingley whilst adhering to the social distancing policies, which we can also do by taking out certain seats and things like that."
Yorkshire start their T20 campaign against Nottinghamshire at Headingley on August 27.
The return game at Trent Bridge four days later, on August Bank Holiday Monday, comes when Headingley will be used as a neutral venue to stage a televised double-header between Derbyshire and Lancashire and Leicestershire versus Durham.
The marquee Roses fixtures will take place towards the end of the competition to maximise the chances of spectators being able to attend.
Yorkshire host Lancashire at Headingley on September 14 before travelling to Old Trafford three days later.
Fixtures for the Northern Diamonds women's team have also been announced.
The team, which is an amalgam of Yorkshire, Durham and Northumberland, will compete in a month-long 50-over competition for the Rachael Heyhoe Flint Trophy, named in honour of the former World Cup-winning captain.
This competition will start on the August Bank Holiday weekend and feature the eight teams from the new elite domestic structure playing in two regionalised groups of four.
Each team will play six group matches, with the top team in each group progressing to a final on September 26. The final will be hosted by the finalist with the most points at the end of the group stage.
Meanwhile, the ECB has confirmed that the five-day final of the Bob Willis Trophy will be played at Lord's from September 23.