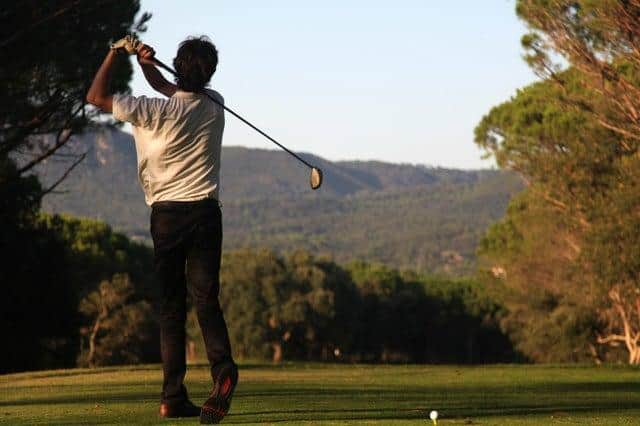 Could golf courses in England set to be reopened? (Pic: Shutterstock)
As prime minister Boris Johnson prepares to outline his road map out of lockdown, amateur golfers are hoping courses and driving ranges will soon reopen across England.
Their cause was strengthened when England Golf CEO Jeremy Tomlinson called on ministers to allow the sport's facilities to open again in the first relaxing of Covid restrictions.
Mr Tomlinson pointed to the "mental and physical health benefits" playing golf has for more than two million people across the country in an open letter published on the England Golf website.
Why are golf courses closed?
Golf courses and driving ranges were closed when England entered a third national lockdown on Monday 4 January 2021, in the government's response to the Covid pandemic.
At the time, coronavirus was spreading rapidly through the community which could be seen in high infection rates, hospital admissions and sadly the number of deaths recorded.
A statement on the England Golf website confirmed: "The UK Government has instructed all golf courses and facilities to close with immediate effect from 4 January 2021.
"This is in response to the rapid rise in transmission rates of the Covid-19 outbreak and as a result of England being placed in alert level 5 – a national lockdown."
When will golf courses reopen in England?
It is hoped that golf courses and driving ranges will reopen in the early phases of the gradual relaxing of the latest Covid rules enforced by the government.
Following the first national lockdown in spring of 2020, golf courses were one of the first sports facilities to reopen to allow amateur golfers to take part in the sport.
They remained open for the duration of the year, even when England entered a localised tier structure to suppress the virus, but were closed in response to a third wave of infections.
Mr Johnson is set to outline a gradual and phased easing of lockdown restrictions on Monday 22 February, with schools expected to be top of his priority list.
The prime minister has stated that Monday 8 March would be the earliest schools could reopen to all pupils, meaning any further lockdown relaxations are expected to come after that date.
It comes as the vaccine rollout continues to provide protection to those most vulnerable in society, with more than 15 million people receiving a first dose of a Covid jab.
What has England Golf called for?
In the lengthy letter, published on the England Golf website, Mr Tomlinson said we should be "truly thankful" for the light at the end of the tunnel "shining a little brighter" after winter.
He wrote: "I truly believe our great game of golf is exceptionally well placed to play a positive role in this first phase of recovery and should be given that opportunity by government."
And added: "England Golf has been clear from the start – golf is a sport played safely in the open air with social distancing part and parcel of every round.
"With the introduction of our Play Safe, Stay Safe protocols after the first lockdown, we made our sport even more secure.
"I'm sure you will be aware that many golfers have already contacted their own MPs to make this point and no doubt many more will reinforce this view by voicing their support for an expedient, safe return to playing golf in the days ahead.
"For in excess of two million golfers in England, the mental and physical health benefits of playing our sport can be clearly documented. This isn't anecdotal, this is based on solid scientific data.
"The fact that these benefits can be enjoyed without presenting any undue risk to wider public health is hugely significant and this point has been stressed again in recent correspondence with government."
Mr Tomlinson also said "golf remains a sport that's safe and good for both body and soul" and that he could "see no reason" why golf can't be one of the first sports to return after lockdown.
Are golf courses open in Scotland?
As England courses closed, golf in Scotland remained in a limited capacity.
Golf courses remained open for play with a maximum of two players from up to two households with the instruction that players must stay close to home and behave in line with Scottish government legislation.