This is when tickets go on general sale for Rugby League World Cup 2021
Tickets for the Rugby League World Cup 2021 will go on general sale on April 6 at 9am.
Tuesday, 30th March 2021, 6:00 am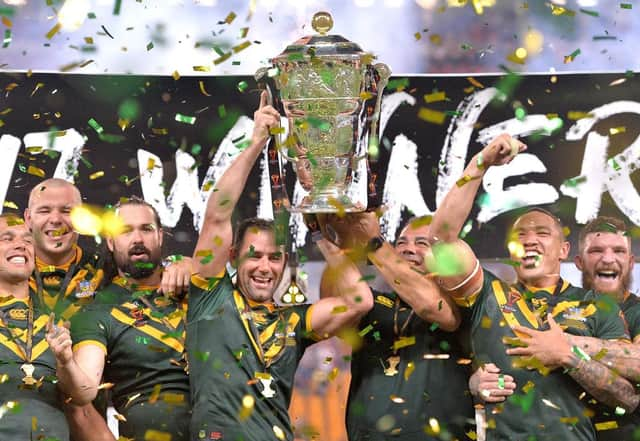 Australia won the 2017 Rugby League World Cup. Photo: Bradley Kanaris/Getty Images
That date has been chosen to celebrate 200 days to go until the opening match at St James' Park in Newcastle
Rugby League fans can also purchase tickets via a final priority access window – open from today until April 4 – by signing up at rlwc2021.com/tickets.
Doncaster's Keepmoat Stadium is to host three group games: France v Greece (Monday 25th October, 2.30pm), Samoa v Greece (Sunday 31st October, 5pm) and Papua New Guinea v Wales (Monday 8th November, 7.30pm).
Jon Dutton, chief executive of RLWC2021, said: "It's another positive moment on our journey to deliver the biggest and best ever Rugby League World Cup later this year by revealing our ticketing timeline.
"We remain extremely hopeful and optimistic that the tournament will go ahead as planned although we remain realistic about the challenges that still lie ahead, not least international travel and quarantine. We would like to thank Secretary of State, Oliver Dowden, and the Government for their continued support.
"In addition, we thank the Rugby League family and the enormous number of people who have purchased tickets during such uncertain times over the past few months."
Tournament organisers have also issued a ticket refund guarantee for all ticket buyers should there be restrictions on crowds and to reassure fans in the unfortunate circumstance the event has to be cancelled. For more information visit rlwc2021.com/buy-with-confidence.