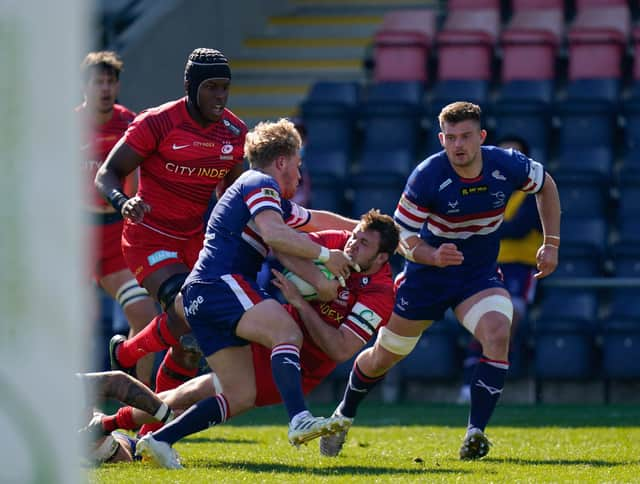 Knights' Gus Warr tackles Saracens' Jamie George during last weekend's Championship clash at Castle Park. Photo: Steve Flynn/AHPIX LTD
Knights, who travel to struggling Richmond on Saturday, started the shortened Greene King IPA Championship season with five straight wins before losing to star-studded Saracens last weekend.
Head coach Boden took the reins from Welshman Clive Griffiths last year and immediately set about overhauling the squad in an attempt to reverse Knights' recent slide down the Championship standings.
The former Doncaster hooker says the recruitment has been key to their positive start.
But so too, he says, has been a balanced working environment at Castle Park and a core principle has been focusing on the process, not the outcome.
"Tony (De Mulder) and Steve (Lloyd) have entrusted me with taking over and rebuilding the club and a rebuild is probably exactly what it was," Boden told the Free Press.
"It was probably on the slide for four or five years as a club.
"We've set some fundamentals in place. We're not concentrating on winning and that's a big philosophy that myself and the staff believe in.
"If you look at every game this year we've not spoken about winning the game, we've concentrated on the bits that will contribute to winning.
"The first part of that is having a good working environment.
"To get a good working environment you've got to get the right people on board. That's staff and players. We've gone with a young, hungry, ambitious mindset where people are desperate to further their careers.
"We want to have a bit of fun. We've got one of the best jobs in the world so don't make it the worst.
"But also we work extremely hard. The staff put a lot of hours in because we love our jobs. The players work extremely hard but they also enjoy a beer and some down time. It's a little bit difficult with the Covid stuff but I think we've got a good balance with the environment.
"As soon as you start to get a good working environment you start to care about each other a little bit and results, or performances more than anything, start to look after themselves."