Sporting Memories Club to launch in Doncaster to tackle health issues
Sports fans from Doncaster will get to relive some of their favourite moments as part of a groundbreaking series of events to help tackle dementia, depression and loneliness.
Thursday, 24th June 2021, 11:18 am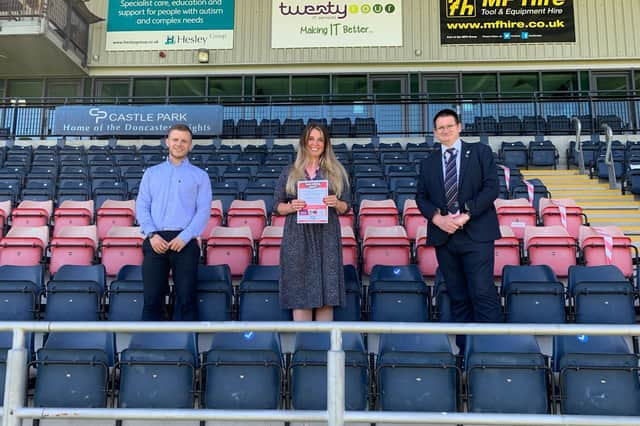 From left to right: Doncaster Knights commercial manager Michael Casey, Home Instead Doncaster business development manager Claire Hoyles, Knights general mnaager Neil Holmes.
Home Instead Doncaster Sporting Memories and Doncaster Knights have come together to launch the Sporting Memories Club where local sports fans will get together for weekly sessions to reminisce about events on the pitch.
Claire Hoyles, business development manager for Home Instead Doncaster, said: "It's great that we're launching this on the back of a very positive season on the pitch for the Knights, it'll give people a bit more to talk about!
"If there's one thing we know about sports fans it's that they love looking back on big moments and matches, but there's also a serious point as it's a great way to help older people keep engaged in their community and provide access to support.
"We'll talk about all sports, whether it's the Knights' recent success or some of the best moments from the recently retired James Coppinger over at Rovers.
"The structured sessions will help provide resilience for those living with dementia, while we know mental and physical wellbeing of participants have benefited from similar events."
The sessions are aimed at over 50s and led by experienced staff or volunteers, they may also include gentle physical activities.
Michael Casey, commercial manager for the Knights, said: "Doncaster Knights are delighted to be helping to tackle dementia, depression and loneliness through the power of sport."
Kayleigh Catford, Sporting Memories' area co-ordinator, said: "We are delighted to be partnering with Home Instead and Doncaster Knights to bring Sporting Memories to the region.
"Through their Sporting Memories Club, Home Instead will be helping us to reach even more older adults who may be living with dementia, depression or loneliness – providing companionship and increasing well-being.
"Our thanks to Doncaster Knights who are providing a fantastic venue for the Sporting Memories Club, and of course, a great sporting background. We look forward very much to hearing all about the meetings."
The free sessions will take place at Castle Park, Armthorpe, from 10.30am-noon every Tuesday starting August 2.
The sessions are free to take part but booking must be made as spaces are limited. To book call Home Instead Doncaster on 01302 369655 or at [email protected].