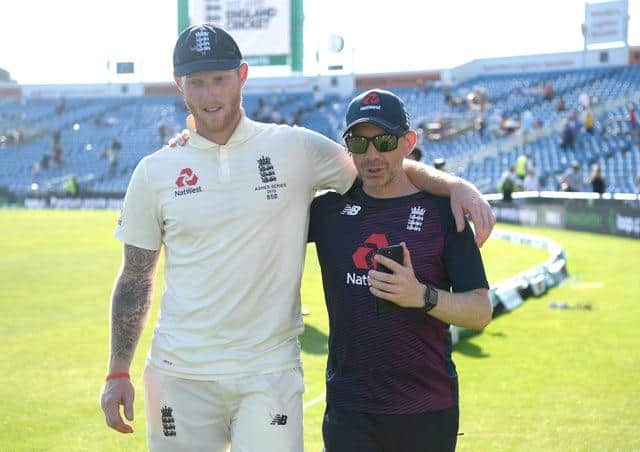 Danny Reuben is pictured with Ben Stokes. Picture: Stu Forster/Getty Images
It is why Reuben, 46, the Leeds-born head of communications for the England cricket team, is respected not only by England's players and support staff – his "extended family" – but also by those journalists who must sometimes ask that "family" some difficult questions.
For just as journalists tread the fine line between trying to keep their editors/readers happy on the one hand and also the people they have to deal with on the other, so media officers must straddle both sides of the fence.
It is a task which Reuben has approached with a simple philosophy: namely – and in stark contrast to previous Team England regimes, it must be said – to be as open and transparent as possible, an attitude to which he has adhered since his first job working for Leeds rugby league club in the early 1990s.
"When I started out at Leeds way back, I always maintained that I wanted to be as open as I possibly could be," says Reuben, who has worked with the England cricket team since 2016.
"I didn't want to be seen as a media prevention officer, because you get lots of clubs and organisations who effectively prevent the media from doing their jobs.
"In my current role, I wanted to change the way that England worked with the media. With all due respect to those who were involved previously, they were quite guarded at times.
"One of the reasons why I got this job, I guess, was because I wanted to open up that side of things, and over the last four years I think we've turned that around in a big way.
"Ultimately, we want to make the players accessible. My job is to help promote and sell cricket across the globe, and to do that the biggest asset is the players, and they're great guys to deal with.
"At the same time, I work closely with journalists, and I think it's important to be able to brief journalists off the record – they can then write with much greater understanding, which benefits everyone – and the players appreciate that fact.
"I'm lucky that I've got a great relationship with people across all aspects of my role – players, media, everybody."
Before Reuben took the job after three-and-a-half years as Yorkshire's media and marketing manager, a period which coincided with the County Championship title triumphs of 2014 and 2015 and provided him with some of his happiest memories, the England set-up was perceived as insular.
That is not just a cricket writer talking – indeed, Sir Alastair Cook used the very word "insular" when reflecting on how England failed to build up a reserve of public goodwill despite a long period of success under former head coach Andy Flower.
"We became very insular as a side," Cook once admitted. "It worked very well at some points for us, but when it wasn't going well, we didn't have anything to fall back on.
"The guys in the dressing room are good people. They are nice guys. The public don't see that enough."
Reuben has helped to develop a much more accommodating environment around the England team. It helps that he is trusted implicitly by the players and also that the coaches allow him to get on with his work.
"I've got a very close working relationship with (current head coach) Chris Silverwood," he says.
"I've got a lot of autonomy in my role, which is also thanks to the openness that (ex-director of cricket) Andrew Strauss created and now Ashley Giles (his successor).
"Also guys like Joe Root (the England Test captain). He's a mate. I treat him as a friend as well as a colleague.
"We have discussions about lots of things, and I think it helps that he has a sounding board away from the team.
"At the end of the day, we're spending about 300 days a year away from home, whether that's throughout the English summer or on winter tours, so the players and management group become like an extension of your family.
"I love touring with them all. It's the best part of the job."
Reuben has privileged access to the England dressing room and is, in effect, an extension of the team.
A talented wicketkeeper who has represented local clubs such as New Rover and Horsforth Hall Park, he has even helped out in the England warm-ups.
"I've had some unfortunate incidents as well, though," he laughs.
"In New Zealand I fractured my eye socket helping out in a fielding drill when keeping wicket and spent two weeks in hospital.
"Tom Curran threw the white ball in quite flat, and I thought it was in the webbing of the glove, but it wobbled and went straight up into my eye socket.
"A happier memory was during the 2017-18 Ashes tour when there was a centre practice and I kept wicket for an hour or two, stood up to some of the spinners, Moeen Ali and Mason Crane.
"I stumped Jonny Bairstow off Mason Crane! I love Jonny to bits. He's a fantastic lad."
Many of Reuben's happiest memories, of course, came last summer.
Not only did England win the World Cup on home soil, but they also won a thrilling Ashes Test at Headingley by one-wicket thanks to an unbeaten century from all-rounder Ben Stokes.
"It was an incredible year for the game and a privilege to be a part of that," he says.
"We went through a challenging time when we lost to Sri Lanka at Headingley in the World Cup and were under pressure, so to come back and win that competition was a massive highlight and obviously the way that we did it in the final against New Zealand.
"The Headingley Ashes Test was also amazing.
"I don't think that day at Headingley will ever be repeated."
Next on the Reuben bucket list is to be part of an Ashes-winning experience Down Under, along with continued success at home and abroad.
"I'm very lucky," he says. "I love what I do.
"It's great to be involved right in the middle of English cricket, and most times I have to pinch myself.
"It's a cliche, but I honestly think I've got the best job in the world."