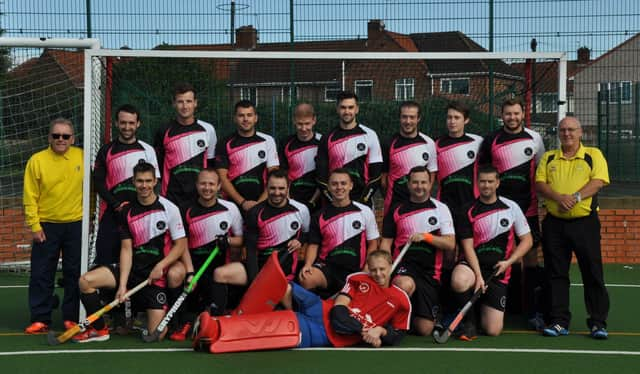 Doncaster Independent Hockey Club men's team.
Doncaster Independent Hockey Club's men's team only formed last August.
Their first season saw them remain unbeaten and they were crowned Yorkshire League Division Three champions with a goal difference of +128.
"As a club we are confident that we can have similar success to this year, Covid depending," said Martin Brown, a player, coach, umpire and committee member.
Doncaster Independent's men in action
"We have already beaten the two teams that got promoted from Division Two in the cup competition last season so we are aiming for back-to-back promotions.
"We also made it to the finals of the cup competition before Covid hit so again we're hoping for success in that as well.
"We also want to continue to bring in new players from all levels and allow people to access the sport at an affordable cost."
The club, based at Armthorpe School, also boast a women's team who play in Yorkshire Division 4 South East.
"The women's side has been around for a good few years as an independent social hockey team," said Martin.
"The men's team was formed in August last year after splitting from Doncaster Hockey Club.
"After a few years of talking about it a few of us split off to form a new club after finding that we could run it ourselves and charge people considerably less in playing fees – allowing more people to be able to access the sport.
"The bulk of our players came from Doncaster but we have picked up four or five players from teams across South Yorkshire and one from down south."
He added: "The new season is due to start in late September.
"Since the government allowed gatherings of six people in public places we have been doing fitness training twice a week in groups to ensure social distancing.
"So we have been getting prepared fitness-wise for a while now and it has also helped people who were struggling socially with Covid."