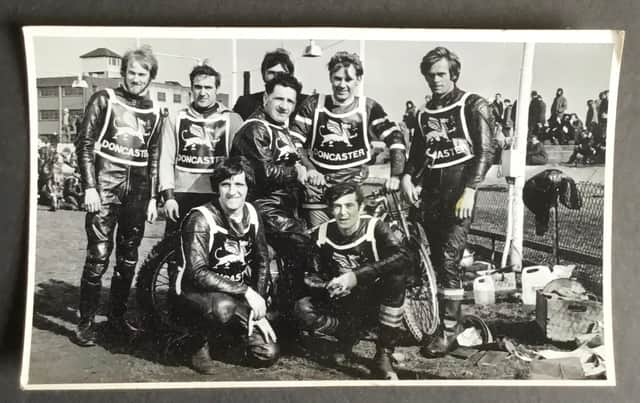 Doncaster Dragons 1970. Picture courtesy of Rob Phinn
We'd like to hear from you – whether you were a promoter, rider, mechanic or spectator – for a special feature piece.
The Doncaster Stallions operated from Doncaster Greyhound Stadium, York Road, for two seasons in 1969 to 1970.
They spent both seasons in British League Division Two. For their second season they were known as Doncaster Dragons.
1969 riders: Terry Shearer, Dave Baugh, Guy Hawkes, Chris Hawkins, Derek Timms, Alan Bridgett, George Devonport, Reg Wilson, Doug Wyer, Stuart Ulph, Stuart Jay, Neil Glover, Bob Coles, Cyril Hathaway, Dave Kumeta, Peter Maxted.
1970 riders: George Major, Gordon McGregor, Clark Facey, Chris Harrison, Mike Holmes, Gunther Haslinger, Chris Roynon, Dennis Wasden, Ian Wilson, Malcolm Corradine, Cliff Emms, Jack Lee.