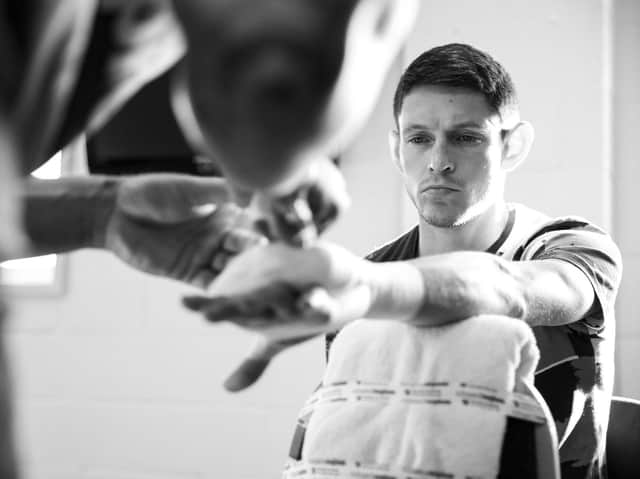 Gavin McDonnell. Photo: Mark Robinson
McDonnell, 35, challenges Gago for his European featherweight belt in Barcelona on Friday.
The Dunscroft fighter's last major contest was in 2018 when he lost to Daniel Roman in Chicago.
But former world title challenger McDonnell is supremely confident of landing a victory that would elevate him back to the top level.
"Gago looks decent. He's smaller than me though and I do think that everything is in my favour," McDonnell told Boxing Social.
"But he's the champion for a reason, so I'm going to have go out there and beat him well and in style, as with this win I can push to where I want to be and get back up to world level.
"That's what I want and winning this fight puts me in a great position to do that. The best me beats Gago every day and this win will open some doors for me. It'll be another box ticked in my career to go abroad and win a good fight for a big title.
"Looking at my career, I'm proud. I can sit back and say 'Look at what I've done'. I've fought for world titles and won plenty of fights that not many people thought I would have done. I'm proof that no matter how hard you work, no matter what your ability, you can achieve.
"I've always had the skill but the difference maker is my frame of mind above anything else. I will always push myself and I've also now been in those big fights and I've experienced boxing at the top level. I've lost at the top and I know what it takes to get there. I'm still fresh and full of belief I can get back up there and win some big fights."
Victory for McDonnell would not only emulate his twin brother Jamie's route to world glory but make him a two-weight European champion.
"This is a chance for me to have a moment like Jamie had," he said. "We're both happy to go abroad and he's won on foreign soil in France, so now I'm going to do it as well in Spain. People within boxing know that trip was the beginning of my career, when he won his European title.
"I thought if he could do it, so could I. I hadn't even been in the gym for a few years but I proved it when I won my first European title. I could turn around and say 'I told you so' and now I'm going to do it again to those people who thought I was finished after the Roman fight.
"I'll have that one over him when I'll have done it in a second weight division. There hasn't been much belief in me and everyone always doubts that I'm going to win fights, but time and time again I've proven them all wrong. I'll do it again when I walk away from Spain with that European title around my waist."