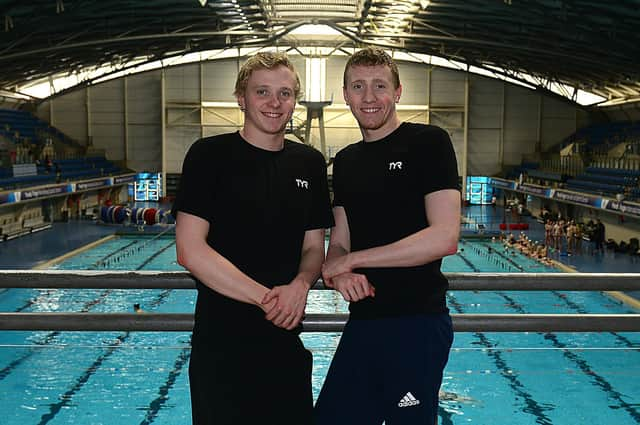 City of Sheffield swimmers Max (right) and Joe Litchfield at Ponds Forge Swimming Centre. (Picture: Scott Merrylees)
Max and Joe Litchfield both formerly of Doncaster Dartes, were this week named as part of an initial 28-strong British squad for this summer's rearranged Tokyo Olympics.
At 26, Max is the elder brother, a veteran of one Olympics and various international meets. He was a finalist in the 400m individual medley in Rio and is a former European Championship medallist.
Joe, 22, is also a medley swimmer, who will be making his debut at this level.
"Throughout our careers, this has always been our target," said Joe, who like his brother was born in Pontefract, swam at Dartes and then City of Sheffield before moving to the high performance centre at Loughborough. "For it to be our first international meet together is pretty mental."
Max added: "It's absolutely amazing. We're both over the moon."
The Litchfields follow Albert and John Dickin in 1920 and twins Bert and Jack Wardrop at the Helsinki Olympics in 1952 as brothers swimming for Britain.
While Britain's swimmers collected six medals in Brazil five years ago, when Adam Peaty memorably clinched gold by breaking his own world record in the 100m breaststroke, Team GB chef de mission Mark England is bullish about bettering that haul in Japan.
"The team has a blend of Olympic medallists from Rio, it obviously has Olympic champions. It has members of the team who have some of the world's fastest times in 2021," he said.
"I'd be pretty confident that we are selecting the strongest swim team that has ever represented Team GB at an Olympic Games. We'll see some special, special moments in the pool in Tokyo."
Looking more broadly, England added: "What we are taking to the Games is a very, very, very competitive team."