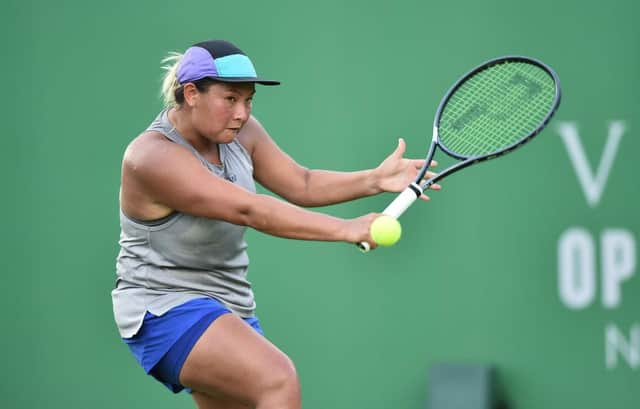 Doncaster's Tara Moore in action against Eden Silva at the Viking Open at Nottingham Tennis Centre. Photo: Nathan Stirk/Getty Images for LTA
World No.476 Moore, from Doncaster won the day's standout match 6-2 3-6 7-6 (3), picking up where she left off after yesterday's qualifiers with her second win in as many days.
The victory is Moore's first WTA Tour-level win since November 2016 and sets up another all-British clash in the second round against Heather Watson.
Moore got off to the perfect start with a break in the third game, setting her up to take a commanding one-set lead.
Silva then fought back, racing to a 3-0 lead before tying up the scores at one apiece.
She then pushed Moore to a tie break in the decider but couldn't hold off the 28-year-old who edged a narrow victory in front of the Centre Court crowd.
Moore said: "It's the first time I've played in front of a crowd for a very long time. This is one of my favourite tournaments and I love playing in front of this crowd. Thank you to the LTA for giving me a last minute wildcard. It means a lot. This is my home town basically. I'm from Doncaster which isn't too far away. I love the North and I love playing in Nottingham."
The tournament is being streamed live on the BBC Red Button, BBC Sport website and LTA's YouTube, Facebook and TikTok channels.
Keep up to date with all the latest from tennis in Britain by following @the_LTA on Twitter, @LTA on Instagram, LTA – Tennis for Britain on Facebook and @lta on TikTok.