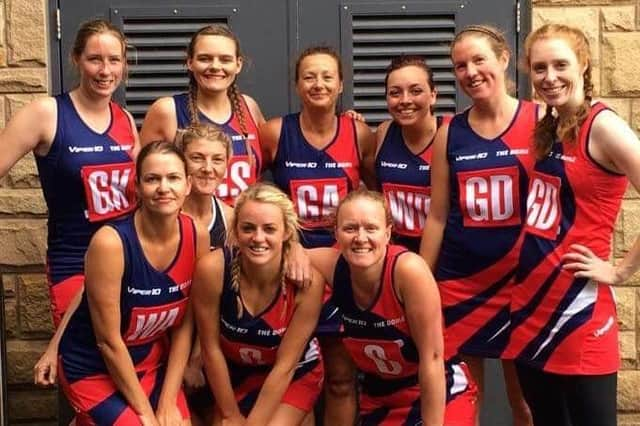 The Dome are the reigning Doncaster and District Netball League champions
The Doncaster and District Netball League started last week after coronavirus led to the cancellation of the 2020 season.
"The atmosphere was amazing, it was really good," said the league's chairperson Laura Sydney.
"It was really hard too because we're so used to hugging each other and having team huddles and obviously you can't do that, you've got to be socially distanced.
The Doncaster League is based at New College in Auckley
"We also used to have over 200 women turning up at the same time - a lot of the girls watch the earlier game before going on court - but we've had to be really strict to make sure we haven't got too many people there at once and say to people just to wait in their car before their game.
"It's different but everyone was just loving it and buzzing to be back playing.
"We had to cancel the whole league last year so some people haven't played since July 2019 and it's brilliant to be back."
Despite the enforced break, the Doncaster league has returned in even better health than pre-pandemic.
The Dome, captained by Debbie Pidcock, are hoping to regain the league title they won in 2019.
"The interest certainly hasn't gone away and in fact we had a couple of new teams that wanted to come down because other leagues have unfortunately had to cancel," said Laura.
"We've got a real range of abilities now, we've got some really top notch teams and some beginners who are still picking up the rules. It's a league that is accessible to everybody.
"I've been involved with the league for about 20 years now and I think it's been going for about 30 years or so in Doncaster.
"There are 16 teams in it this year and each team is made up of ten women. It's all done on a voluntary basis with a committee.
"We used to be at Hayfield School but we're at New College now and we're really grateful to them for stepping in, giving us a venue and helping us out. The courts are brilliant and the caretakers were really helpful."
England women's gold medal at the 2018 Commonwealth Games and Sky Sports' coverage of the Vitality Netball Superleague have given the sport fresh momentum and exposure which, according to Laura, is reflected in the participation levels and the enthusiasm for the sport in Doncaster.
"I think netball is the number one fastest growing sport in England and I think in 2019 it was the number one female participation sport in this country," she said.
"Obviously I love it. I've been playing since I was seven years old and I should be a lot better than I am by now but it's brilliant.
"It's such a sociable sport, it can be really friendly but it can be mega competitive.
"Sometimes people think of it as quite lady-like with it being non-contact but it's really not. If you watch the Superleague they are battered and bruised, it's not a non-contact sport any more!"
For more information about the Doncaster and District Netball League visit their Facebook page.
*England Netball has teamed up with The Well HQ to support women and girls on their journey back to court following the impact of the Covid-19 pandemic.
A report by Women in Sport found that 57% of teenage girls felt self-conscious and judged when exercising outdoors and 45% of women said they were currently struggling to keep their spirits up.
The Well will support coaches, volunteers, officials and players through a unique series of webinars on mental health, mindset coaching, injury prevention and rehabilitation, confidence and body image, puberty, menstruation, menopause, female health, sleep, nutrition and breast support.
They are available to any England Netball member.