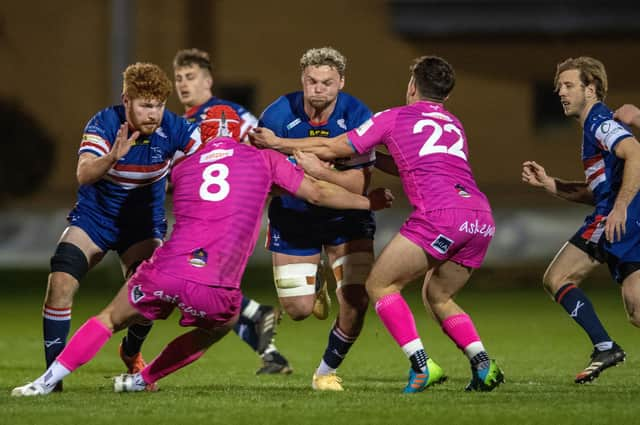 Jack Davies looks to make ground for Knights. Photo: Bruce Rollinson
Doncaster Knights sit in that enviable position today after producing a thrilling 20-19 win against Coventry last night, showing spirit and resolve for a second time in a week having opened their account by nudging past Ampthill on Sunday.
Steve Boden has certainly started well in his life as head coach at Castle Park; some of the rugby as Doncaster built up a 20-7 interval lead was sublime.
"We are delighted as we knew we'd be up against it with Coventry who have some great players," he said.
"I have just debriefed with the squad and said I thought we were unbelievable in patches in the first half.
"But then we were distinctly average in the second half and we have to stop doing that.
"We have to put sides to the sword. I think there was points left out there although there was a lot of stuff outside of our control tonight as well with some of the decisions.
"We have to be better than that, though, to eliminate it and we realise there's things we can be a lot better at.
Doncaster Knights v Coventry. Photo: Bruce Rollinson
"Yes, there was some unbelievable rugby in the first 40 minutes but we have to push that to 60 now and then try and get it to 80.
"We've got another tough game coming up at Hartpury on Friday and we'll look to do that then."
Coventry, aided by a hefty penalty count in their favour, enjoyed most of the possession and territory early on.
Indeed, Doncaster struggled to get out of their own half.
Nevertheless, for all the visitors' desire to spread the ball, they rarely troubled; Boden's side who were expertly organised defensively.
Aside from driving over for Nick Dolly's seventh minute try, converted by Anthony Fenner, Coventry were stumped.
Instead, Doncaster scored against the run of play when a line-out was spoiled and recalled hooker Ben Hunter charged upfield.
Sam Olver spotted the space in behind and Jack Spittle hacked on his kick for Kyle Evans to score for the second Championship game running.
Doncaster failed to deal with the restart – that was one negative as it became a recurring theme – but once more they proved resilient to win back possession.
From there, Olver showed his class again dummying through in midfield before finding John Kelly, the big No8 who strode out before stretching over for a fine try that Olver improved.
If Doncaster are ever short of midfield creativity this season they may start looking towards prop Robin Hislop.
After Matt Challinor forced a turnover, the loosehead expertly kicked ahead from near halfway to see Coventry eventually caught behind their own goalline.
It proved a telling moment; Hislop went back to his usual duties in the set-piece and duly helped his side win three consecutive penalties from the resultant 5m scrum.
There was no escape; Coventry's pummelled loosehead Luc Jeannot was duly sin-binned and, though his team finally held firm at the fourth attempt, it only delayed the inevitable.
Doncaster patiently probed away before Charlie Foley finally made the extra man count to slip through for their third try on 33 minutes.
Olver was wide with the relatively simple conversion attempt but a long-range penalty did extend the lead.
Unfortunately, as Boden attested, his side were not as composed and efficient in the second period, too often cheaply giving ball away at first phase to encourage Coventry back in.
Predictably, having gained some decisions in their set-piece, the Midlanders did gradually grow in confidence.
They managed to score their second try in the 61st minute when Dolly finally found some space down Doncaster's right for Ben Nutley to finish.
However, crucially, as it turned out, Fenner hit an upright with a basic conversion attempt.
Still, his side broke downfield immediately from the restart to put Doncaster under more pressure. Eventually, a brilliant long pass from replacement Joe Snow saw Rob Stevenson in at the corner, Kieran Wilkinson's kick making it 20-19 and setting up a tense final 14 minutes. Tiring Doncaster struggled at times but – just as at Ampthill – their spirit came to the fore when it mattered most.
Former Knights centre Will Owen threatened to get Coventry motoring again, but Knights held on for a deserved victory.
Doncaster Knights: McBryde; Evans, Foley, Edwards, Spittle; Olver, Mitchell; Hislop, Hunter, Jones (Denman 55), Challinor, Sexton, Britton, Graham (Joyce 63), Kelly (Davies 63)
Coventry: Brown; Stevenson, Forsyth, Owen, Knox (Trinder 28-38, James 45); Fenner (Wilkinson 62), White (Snow 51); Jeannot, Dolly, Harper (Boulton 51), Dacres, Jordan, Lewis, Nutley (Nayalo 76), Burrows.