Doncaster Knights v Jersey Reds - Competing is key to life, says Steve Boden
In-form Doncaster Knights have undergone a process of self-reflection to help both celebrate their start to the Championship campaign and also try to ensure it continues.
Saturday, 10th April 2021, 9:49 am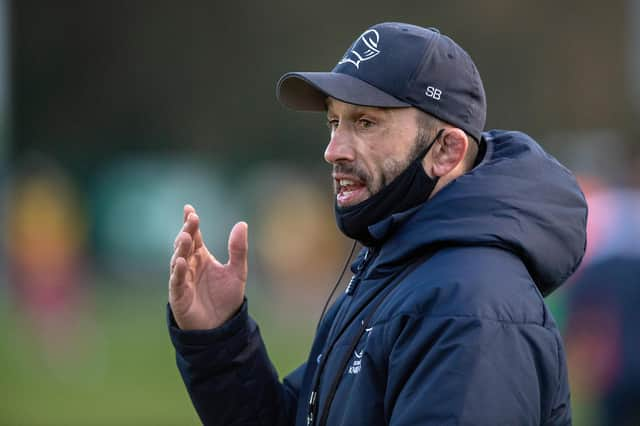 Steve Boden
They host Jersey Reds today looking to make it five wins from five outings.
Doncaster sit second, just three points behind leaders Ealing Trailfinders, and with the enticing prospect of Saracens arriving at Castle Park a week tomorrow. For head coach Steve Boden in his first season since taking over from Clive Griffiths and having made such vast changes to the squad, things could not have gone much better.
After edging past highly-rated Cornish Pirates 17-15 a fortnight ago, there was a blank date last weekend and plenty of time to prepare for Jersey.
"We've had some good results, some very close games, so we've had some self-reflection as coaches and players," said Boden.
"As coaches, we challenge the players to improve and improve simply in a few areas. I thought it was very important we covered a couple of bits about why they're winning and try to celebrate that.
"It's important we do that. As much as we should look at what we need to improve, we should also keep looking at what we've got right as we have four results.
"There's been some really good, honest feedback. The players are very aware that we've scraped over the line a couple of times against good sides so we're not getting ahead of ourselves.
"But another win would be everything we are aiming for."
Establishing what they did learn from that self-reflection, Boden said: "Things not really to do with talent; it wasn't skill stuff.
"They want to play for each other. The environment the players train in has a lot of competition and they have created that just through pure desire and the will to want to win and compete.
"That's something we talked about a long time ago when we first got together; competing is key to life. If you're a binman, why don't you want to be the best binman you can be? Or if you're a plumber why don't you want to be the best plumber you can be?
"It's exactly the same thing and that's just competing with yourself and your team. That's a big part of what I look for in people, that competitive edge. It's got us over the line a few times."
Indeed, three of Doncaster's successes have come via fine margins, including their 19-17 opening day win at Ampthill and a 20-19 home triumph over Coventry before Cornish – who beat Saracens – were also edged.
Jersey, who moved their home game with Knights to Doncaster due to Covid travel restrictions in the Channel Islands, is a club Boden knows well, having spent four years there, first as a player and then moving on to their coaching staff when he retired.
"It was an opportunity to get chucked in at the deep end and learn from some success and a lot of mistake," he recalled.
"I was really grateful to Jersey for giving me my start in coaching. They are good people, a good club, very well run and as a team they have recruited very heavily this year.
"They've brought in a wealth of experience and on paper have a top-four or even top-two side. If that clicks we will have a hell of a fight and we'll have to be extremely good to get a result."