Doncaster Knights on mission to return to Championship top table
Head coach Steve Boden hopes to re-establish Doncaster Knights as a Championship force.
Friday, 5th March 2021, 12:22 pm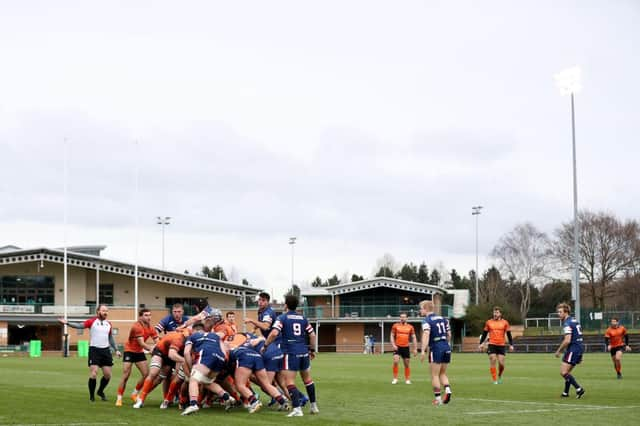 Knights in pre-season action against Ealing Trailfinders. Photo: George Wood/Getty Images
Knights launch their shortened Championship campaign at Ampthill on Sunday (1pm).
The Castle Park club have finished in the bottom half of the second tier for three successive seasons following back-to-back play-off campaigns.
Boden takes charge of his first competitive game this weekend after succeeding long serving director of rugby Clive Griffiths last year.
"We're trying to re-establish the club - building it back to where it wants to be and moving up to the mid-to-upper end of the Championship from where we've been the last few years," said Boden.
"It's been challenging," he said reflecting on the last year.
"It was always going to be challenging anyway with a big turnaround in the squad. Obviously the Covid stuff has made it a bigger challenge but I think we've adapted fairly well."
Knights have very deliberately reduced the average age of their squad over the winter.
"We wanted to look at a model of where we are as a club," said Boden.
"We've got nowhere near the biggest budget in the league – we're a mid-table budget at a push – so we're going with an ethos of people that are ambitious to kick on to the next level.
"All the coaching staff want to coach at the highest level.
"All the players that we've got here, a massive amount of them have got the ambition to play at the next level.
"We've got a few elder statesmen in there too which I think is good and they're in there for a reason – they're really good people to have in the environment.
"There's a lot of good stuff that goes on at Doncaster Knights and they're people who can drive those standards of what being a Doncaster Knight is all about.
"The big thing was bringing the average age down, and also that fits financially with where we are as a budget.
"We can't offer life-changing money but what we can do is offer them a lot of individual coaching, we can give them a lot of time and we can put a lot into them to try and get them to the next level."
For details of how to watch the live online stream of this weekend's game visit drfc.co.uk.