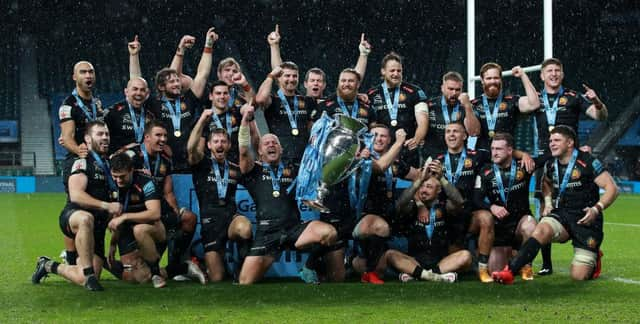 Exeter Chiefs. Photo by David Rogers/Getty Images
The table was for National League One, or the Championship as it is now known.
Depending on your persuasion, that little nugget of information could leave you incredibly positive or buried in a sea of depression.
For Doncaster's current head coach Steve Boden it is definitely the former. He is only encouraged by the fact that a club with no previous top-flight experience can work its way up so high, so fast and prosper so splendidly; it still offers hope for everyone else.
Doncaster Knights head coach Steve Boden. Picture Tony Johnson
In 2006-07, Leeds were promoted as champions with Rotherham just behind, then Doncaster with Exeter - still fully three years away from going up to the Premiership themselves - coming in in fourth.
Such is their fall that Tykes will start next season in National League One with Rotherham, of course, another division further down.
However, Doncaster - the only club in that Yorkshire triumvirate never to play in the Premiership - remain in the Championship, still hoping to get their own crack.
Boden - who was a player not long into his Knights career in 2006-07 - said: "It is a great story what Exeter have done.
Steve Boden during his Knights playing days.
"I do remember going to Exeter and, the first year after signing for Donny from Leeds in 2005, playing at their old ground which had a speedway track around it.
"But they moved up to a new stadium and, after playing them a few times, you could see with that getting built what the aspirations of the club were going to be going.
"I'll be honest; I used to hate going there. As a hooker it was always blowing a gale and they were always tough opposition.
"I remember beating Exeter that year in '06-07 and also drawing with them 9-9 one season down at Sandy Park. A lot of the guys who are stalwarts of their team now - like your Ben Moons - were probably just young guys coming through back then.
Rob Baxter, Exeter Chiefs director of rugby. Photo by David Rogers/Getty Images
"But Exeter have enjoyed an upward curve and done it the right way; slowly built with really strong backers who care about the club. That's the biggest thing and it's much like Doncaster where, in Steve (Lloyd) and Tony (De Mulder), we have two backers who really care about it.
"They live and breath Doncaster; they are as passionate as the first team as they are about the mini juniors and that's the same sort of model as at Exeter.
"People don't get involved in sport to make money; you have to be passionate about it and care about it and, like here, they do at Exeter. Exeter have a great business model, too."
Exeter also won a second Premiership title by beating a Wasps side coached by Lee Blackett - a member of the Leeds team that won promotion in 2007.
Given vast differences in funding between the Premiership and the Championship - and the constant chatter of ring-fencing - it is hard to imagine such a previously unheralded team starting out on a similar odyssey now.
But Boden, 38, disagreed: "I still think it's there. For that to happen. We'd love to and we have the facilities, location, infrastructure but we know it's not a level playing field with such a drastic difference in funding.
"It needs to be made fairer and, if you got the same finances as everyone else in the Premiership when promoted, I don't see why the dream would go away for anybody.
"You have to have that. If you'd have said to me 13 years ago Exeter would win the Heineken Cup and Premiership I'd have laughed at you.
"Bristol couldn't get out of the Championship for years. Yes, they have a backer but they have now just won the European Challenge Cup and reached the Premiership semis."
Exeter head coach Rob Baxter is also a big advocate of the Championship.
Boden said: "Rob's a great guy, very level-headed.
"You'll see a few clubs that when in the Championship will say ring-fencing is a disaster but when they get in the Premiership then say that's the way forward.
"Rob's just been consistent with his message all the time. He believes in promotion and relegation.
"Sport is about dreams and working hard to make them happen. I don't see why that should ever be taken away from you."