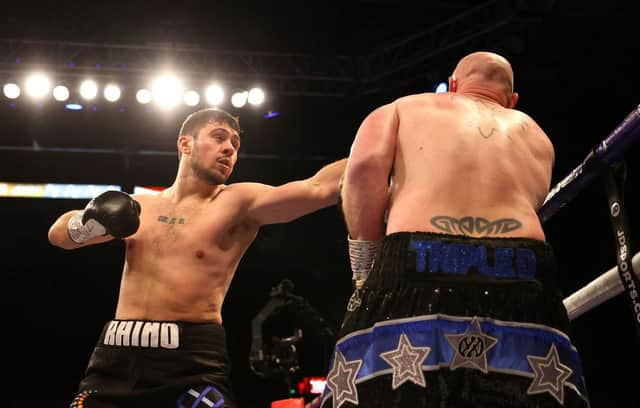 Dave Allen in action earlier this year. Photo by Richard Heathcote/Getty Images
And the 'White Rhino' has revealed a new selfish streak in a bid to reach the top.
Wardley's manager Dillian Whyte targeted Allen after watching his unbeaten prospect land a ninth straight win at Fight Camp earlier this month.
"The Wardley fight is the next big fight that I believe I'll be in," Allen told Sky Sports.
"He's a really good talent. The sooner that fight happens for me, the better. I'd like one or two beforehand because he is really sharp, and I'd like to be sharper.
"I've sparred Fabio. He is a very confident man. But I'm a very physically strong man.
"I sit here and smile, and he would have the same confidence. But there's no way he can beat me. No way. No chance.
"His team around him will know that.
"I only wish him the best. But if he boxes me in the next 12 months he will get knocked out."
Whyte has previously said: "We want all the smoke. Fabio is young and inexperienced so we will be wise. I'd like him to fight Dave Allen at the end of the year or next year."
Wardley added: "Sounds good to me. Dillian knows me - we're here for anyone. We're fit all year round. Anyone can get it.
"I proved [by beating Simon Vallily earlier this month] that I'm a class above where some people had me.
"I can show boxing skills, I can box with some big names. Now it's about putting me in with them."
Meanwhile, Allen had been set to spar with Alexander Povetkin, who fights Whyte this weekend, but it had to be cancelled due to logistics.
Accepting Povetkin's request, Allen says, is proof of his new ruthless streak.
"I've become more selfish," he said. "I agreed to spar Povetkin. I have to be selfish if I'm going to get to the levels that I want.
"I thought: 'He's fighting Whyte. Shall I do it?'
"Then I thought: 'I've got one career, I get one bite at this. Povetkin is the best small heavyweight of my era. I've got to go!'
"Two or three years ago I would have said: 'Sorry I can't because Whyte is my mate'.
"My last two trainers have told me that I have the ability to be the best heavyweight in the world. I'm not sure I believe that or share the same confidence.
"But there's very few heavyweights in the world that I wouldn't fancy beating.
"I know people will laugh at that," he added.
"People will think I'm deluded. That's fine.
"I've realised you have be a little bit deluded and selfish if you want to get to the top."
*Natasha Jonas could be next in line for world lightweight champion Katie Taylor – if Taylor wins her rematch with Delfine Persoon this weekend.
Jonas wants a rematch with Doncaster's Terri Harper following their thrilling draw at Fight Camp a fortnight ago.
But that potential clash is likely to be delayed because of the WBC super-featherweight champion's mandatory commitments.
Taylor defeated Jonas on points at the London 2012 Olympics.