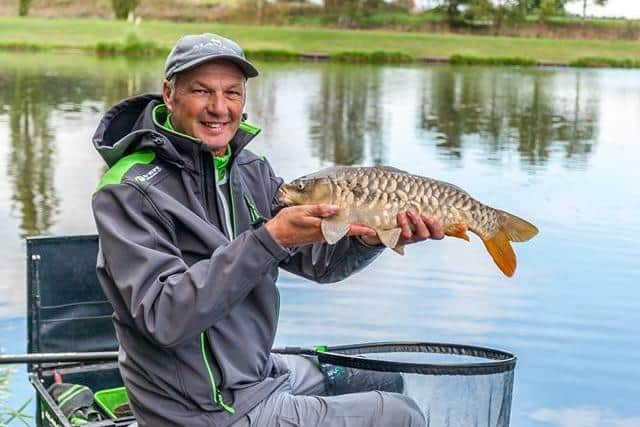 Tom Pickering
The former miner opened a tackle shop in Doncaster and we became good friends as I spent many an inspirational lunch hour above the shop in his office talking tactics. I've travelled with him, fished next to him and against him, even filmed with him on the banks of the Trent but I'm sure you know me well enough to appreciate this in no way colours my judgement of Born To Win which is an absolutely riveting read.
Tom has long been one of the most accomplished communicators in angling, whether that be on a one-to-one level, speaking from a stage or commentating on televised events like Fish'O'Mania and reading the book is just like listening to him speak. Apparently he drafted it long hand in his Yorkshire dialect before allowing Barnes to turn it into English so the rest of the country would be able to understand it!
Tom's journey mirrors that of so many local anglers, setting out on the club match scene and then progressing to the open circuit and team fishing but the trajectory doesn't stop there as he goes on to reach the pinnacle on the world stage as an individual, as a team member and as a manager.
Tom Pickering: Born to Win
Each chapter is self contained making it an ideal dipping book. You don't have to read the chapters in order as they each stand alone, although when you get stuck into it you could be fooled into thinking this is a work of fiction. It seems impossible that one man can achieve so much success in one lifetime.
I swear if someone in a pub claimed to have won half the titles Tom has won you'd be convinced he was either drunk or a fantasist. It beggars belief that Pickering has the fortunate knack of not just winning matches but winning the ones that really matter, and then not satisfied with winning, given half a chance he smashes records along the way.
He mirrors individual glory with team success with Barnsley Blacks, Team England, England Ladies and the England Feeder team and I won't be in the least surprised to see him winning gold at World Veterans or Masters level in the near future, he really is that good.
A book describing these incredible achievements could easily come over as self agrandising but rest assured it doesn't. The tales are told with good humour, humility and a helping of pathos. He gives plenty of credit to those around him without whom it would not have been possible. He also opens up about several personal issues and gets the balance just right.
This is the best angling book I've read in a long time. The pages fly by. It's only weakness, as with the vast majority of match fishing books, is the limited number of quality photographs of anything that happened more than 10 years ago. In photographic terms, pre-internet and mobile phone cameras, it might as well have been the stone age.
Christmas is coming up on the rails very quickly. Only 11 weeks away, can you believe. This book will make the perfect stocking filler for any angler. Sensibly priced at just £20 hardback or £15 paperback and available from the www.tommypickeringangling.co.uk web site.