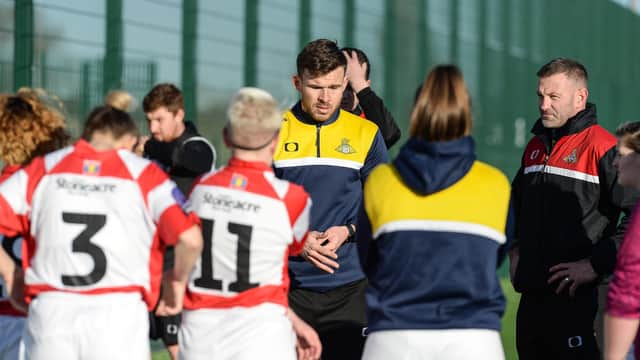 Andy Butler. Photo: Heather King
Belles were staring down the barrel of an unthinkable relegation into the fifth tier of the women's game when Butler was appointed in January.
The 36-year-old defender, who rejoined Rovers on a short term deal this month, managed to stop the rot before the 2019/20 season was declared null and void due to the coronavirus pandemic.
Butler begins his first full season in charge when Belles start their FAWNL Division One Midlands campaign at Boldmere St MIchaels on Sunday.
"He's done a great job to be fair," said Edmunds, a founding member of the Belles in 1969, former player and club president.
"I didn't know what he'd be like. I knew he was involved in coaching and worked in the academy at Club Doncaster. He's a good player – so we talked about it and said 'fine, go on then'.
"To be fair to him he made a massive impact from day one and the players responded to him. They've all worked hard. You could see right from the first game what he was trying to do with the players – playing out from the back. It was a breath of fresh air.
"The players felt that too because they'd been in a bit of a pit, for want of a better expression. Suddenly there was a bit of light at the end of the tunnel and they responded to him and they have taken massive strides forward.
"That's no disrespect to Zoe [Shaw] who was the outgoing manager but on the field and through supporters' comments you can see the change.
"I felt for Zoe because there was a mass exodus when we had to pull out of what is now the Championship. We were left with what was the development team. She even lost some of her development team so it was always going to be a long hard slog for her – probably harder than we ever envisaged because teams in tier three had a lot of mature players and we had young kids."
Belles won the second tier title in 2018 but then withdrew from the league. They lost their main sponsor, manager and entire senior squad and were relegated from FAWNL Northern Premier DIvision the following season.
Following Club Doncaster's protracted takeover of the club last year, chief executive Gavin Baldwin said the ambition is to ultimately get Belles back to the FA Women's Championship.