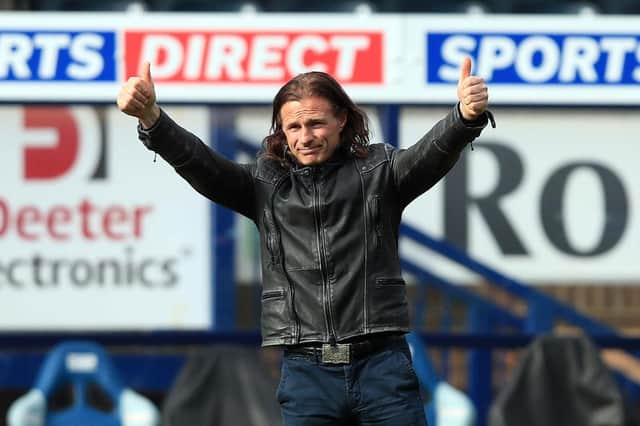 Wycombe boss Gareth Ainsworth. Photo by Marc Atkins/Getty Images
The EFL confirmed late on Wednesday night that Derby County could still receive a points deduction over a breach of financial fair play rules.
And the governing body raised the possibility a deduction could be applied to last season, which would see them relegated from the Championship in place of Wycombe.
The EFL have stated that the fixtures for both clubs, released on Thursday morning, are 'interchangeable' to cater for either being in the Championship or League One in the coming campaign.
Derby were initially cleared of any wrong doing by an independent disciplinary commission but an appeal has been settled in favour of the EFL, with the Rams receiving a £100,000 fine.
However, both parties still have the power of appeal and the EFL could push for a stronger punishment, including a sporting sanction such as a points deduction.
Derby survived last season by a single point from Wycombe, so any deduction greater than one would see them relegated in the Chairboys' place.
And so, Rovers could be visiting Pride Park on April 2 instead of Adams Park.
The full EFL statement is below:
"An independent Disciplinary Commission has delivered its verdict on sanctions for Derby County relating to ongoing disciplinary proceedings.
"In May, an Independent League Arbitration Panel ruled that the Disciplinary Commission was wrong to dismiss the League's expert accountancy evidence, which demonstrated that the Club's policy regarding the amortisation of player registrations was contrary to standard accounting rules.
"More specifically, the panel determined that the Club's policy was not in accordance with accounting standard FRS102 because it failed to accurately reflect the manner in which the Club takes the benefit of player registrations over the lifetime of a player's contract.
"Tonight, the Disciplinary Commission has announced that the sanction to be imposed in respect of those breaches, is a financial penalty of £100,000 to be paid to the EFL and a reprimand for the Club as to its future conduct regarding the preparation of its Annual Accounts.
"In addition, the Club has also been ordered to file restated accounts for financial years ending 30 June 2016, 2017 and 2018 that meet the requirements of FRS102, together with updated Profit & Sustainability calculations if necessary.
"Both Derby County and the EFL have the right to appeal that sanction decision.
"That being the case, ahead of the publication of the 2021/22 season fixture lists on 24 June at 9am, the EFL can confirm that it has developed an interchangeable fixture list for Derby County and Wycombe Wanderers while the disciplinary process is finalised.
"The fixture list for both the Championship and League One will be published in full based on the 2020/21 final standings, pending any appeals relating to this decision."