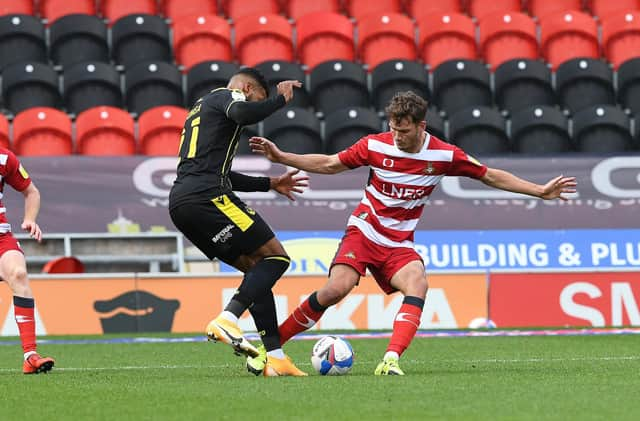 Joe Wright
Wright and Anderson have been excellent so far this season, as well as last term when they had their first opportunity to form a partnership.
Anderson believes that a connection both on and off the pitch has helped build Rovers' solid back line.
"We're two lads who get on well off the pitch and we know each other's games now," he told the Free Press.
"Before December last year, we'd play a game or two together and then we'd be in and out.
"Last year, we started playing together and once you get that good understanding of each other and you know what each other are good at individually and as a partnership, it can be a massive help for the team.
"I think on the pitch we're both very similar. Off the pitch, Joe's a character that's always involved in the banter, and he won't mind me saying that.
"We've got characters like that in the squad who love a laugh and it's massive for the camaraderie for the squad.
"On the pitch you can see that we all run hard for each other.
"I think the good thing about the squad is the togetherness. We all get on well, have a laugh together and it can make a massive difference on a Saturday."
Anderson says he has been impressed with the improvement of Wright over the last year as he looks to put past injury worries behind him.
He said: "From when I came in, Joe has always been a good player. He's got good pedigree, he's quick, he's sharp, powerful;. He's got a lot of good attributes.
"We both work hard every day to get better, because you're never a complete player unless you're called Ronaldo or Messi.
"We both work hard. We've started well but we have to keep going."
The pair face strong competition from Cameron John and Andy Butler this season but Anderson feels the pressure will help him keep his standards high.
"If you drop off one little bit they'll be straight in ready to go," Anderson said.
We've got to make sure we keep our standards high."
*
Thank you to all who support local journalism with a print subscription.
The events of 2020 mean trusted, local journalism is more reliant than ever on your support.
We couldn't do it without you.
Please subscribe here https://www.localsubsplus.co.uk/ so we can keep campaigning on your behalf.
Stay safe.