What James Coppinger said to his Doncaster Rovers team mates after his final match
In his final few minutes as a professional footballer, in a packed changing room at the Keepmoat, James Coppinger was given the floor.
Saturday, 15th May 2021, 12:25 pm
Amid the thank-yous and well-wishes he handed out after playing his final match, Coppinger took the opportunity to address the group and pass on some of the wisdom he picked up over the course of his incredible career.
And the message was clear. No matter who you are, you need to make the most of every single moment and strive to be better.
"For me it's not about wasting time being average," he told the Free Press.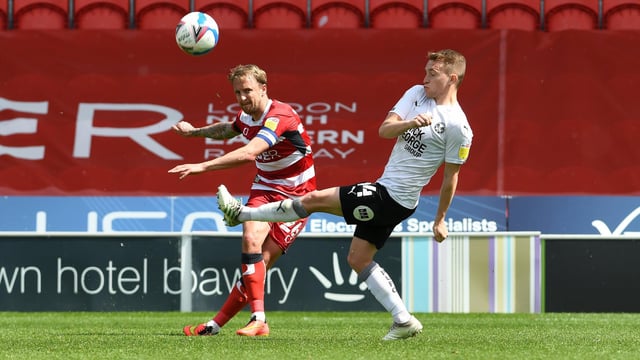 James Coppnger
"It's not about performance, it's about how you apply yourself.
"Every day you have an opportunity to improve. Every day you have an opportunity to apply yourself in the right way.
"If you're a professional footballer you have to be at training, so while you're there, make the best of it.
"Those small details, doing it every single day, it adds up and that's why I've become consistent and why I've played 40+ games a season for the last 20 years.
"The days where you struggle, it's hard and you feel like you can't do it, they're the days where you have to push through and those days are where you become a better person.
"You become more resilient and find ways of coping when things happen, when you go 2-0 down or 3-0 down.
"That is what that was about.
"There's some real good players and there are some lads that have real good futures.
"But football is fickle and you have to produce it every single day."
Coppinger's career ended with a 4-1 defeat to promoted Peterborough United.
And he felt it was the perfect example that it has not been the case that the Rovers squad used every day to the fullest.
"You can see in Peterborough a team there that got promoted and you can see why they did," he said.
"Every single person knows their job and works for each other."For whatever reason, that wasn't the case for us.
"At the same time, I can understand why.
"There are people learning and developing. Physically it's been really difficult this season, which has been like no other.
"I'm not blaming anyone whatsoever but the difference between us and Peterborough is massive.
"You could see that on Sunday and that wasn't Peterborough's first team. It stands out a mile."
The 40-year-old felt he could retire content that he had given his all during his time as a player.
But he warned the Rovers squad that time flies by quickly and urged them to use the opportunities they have left.
"There's always another game," he said.
"I said that to them after the game. And I say it to my kids all the time.
"If you lose there's always another training session, always another game and another opportunity to use it as a positive and bounce back.
"There isn't for me. That's me done.
"But for them, it'll go in the blink of an eye.
"Gary Speed, Rob Lee - players at Newcastle used to say that to me and I'd think, what are they on about?
"But here am I, retiring, and it's gone so quick."
*