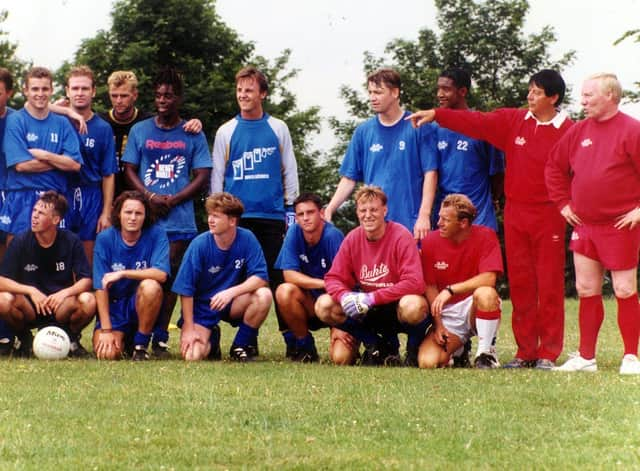 Sammy Chung lines up with his first team squad in 1994
Keep an eye on Free Press Sport over the coming weeks as Rovers historian John Coyle profiles the club's best bosses.
Steve Beaglehole's successor was Ian Atkins, a former Everton player who had managerial experience with Colchester United and Cambridge United.
Atkins steered Rovers to mid-table safety.
However, after the end of the season Atkins fell foul of self-styled "Football Consultant" Ken Richardson and was dismissed.
Richardson claimed it was because Atkins refused to move home from his base in the Midlands, but subsequently it emerged that the source of the disagreement was Atkins' choice of assistant manager.
The man Richardson had earmarked for the role of Atkins' number two was now appointed to the managerial vacancy, 62-year-old Sammy Chung.
Chung, christened Cyril by his Chinese father and English mother, had played professionally for Reading, Norwich City and Watford before moving into coaching.
After working at Ipswich Town and Wolves he became manager at Molineux in 1976.
He lasted there just over two years before going on to coach abroad.
Later he was assistant manager at Stoke City and Colchester and manager of non-League Tamworth.
The veteran coach used his knowledge of the non-League scene to acquire midfielders Gary Brabin from Runcorn and Sean Parrish from Telford United.
The new look team began 1994-95 well, winning its first three league games and not conceding a goal until the seventh match.
Rovers stayed in the top three of Division Three throughout the autumn.
Even a dismal run over Christmas and New Year did not cause Rovers to lose touch with the leaders, but the Belle Vue scene in early 1995 was dominated by off-field issues.
Ken Richardson threatened to take the club out of the Football League if Doncaster Council would not agree to build a new stadium.
The threat was taken down to the wire as the deadline of 31st March 1995 passed and no resignation letter was received at Football League headquarters.
Many felt that the quiet diplomacy of Chung had persuaded Richardson not to take such a drastic step.
Having finished 9th in his debut season, Chung brought in some fresh faces, including the Torquay United pair, striker Duane Darby and defender Darren Moore.
Again, Rovers made a decent start, but they soon fell away and a brief flirtation with 4th place in January was as good as it got: they ended up in 13th position.
The summer of 1995 had been notable for a serious fire in the Main Stand, which had only avoided total destruction through the prompt actions of the fire brigade.
Arson was suspected and in March 1996 Richardson was arrested following an evening game.
Chung prepared the squad for the start of the 1996-97 and on 17th August 1996 he turned up at Belle Vue to take charge of the team for the opening game of the season with Carlisle United.
On his arrival, Richardson told Chung that his services were no longer required, and that Kerry Dixon was the new manager.
Chung had known that Dixon was coming, as a player only. Dixon had been told that the manager's job was vacant and would be his.
So, a popular and respected manager was removed in the shabbiest possible circumstances.
Chung had always given Richardson staunch support in public and he had even praised the "football consultant" for his knowledge of the game.
Chung's reward was summary dismissal followed by a long battle to gain a fraction of the compensation he was owed.
It was a sorry episode in the history of Doncaster Rovers.
Senior record with Rovers
First match: 13th August 1994 v Hereford United (away) won 1-0
Last match: 4th May 1996 v Colchester United (away) lost 0-1
P100, W35, D26, L39, Winning percentage: 35.0%
7 Lawrie McMenemy (1968-71)
Lawrie McMenemy was 32 years old and, after a short playing career ended by injury, he had become manager of Bishop Auckland, leading them to Northern League title.
For the past year he had coached at Sheffield Wednesday and a personal recommendation from the Wednesday boss, Alan Brown, helped McMenemy secure the Belle Vue job.
Chairman Frank Wilson described the young Geordie as "a man who is conversant with the speed of modern football".
McMenemy took formal charge for the FA Cup game with Third Division Southport. Rovers won a thrilling game 2-1 but it took a while for his magic to work in the league. Four draws and a defeat followed, along with a brave but unavailing performance in the FA Cup against Liverpool at Anfield.
McMenemy's first league win, 2-0 at home to Southend, came in January 1969, part of a club record run of 20 unbeaten games. Highlights included a 7-0 victory over Aldershot and a 5-0 win over Brentford, but the real heroes were the defenders who conceded only seven goals in those 20 games. Rovers ended up Fourth Division champions by two points.
Perhaps a measure of McMenemy's authority was that he managed to offload club legend Alick Jeffrey to Lincoln City in January 1969.
Back in Division Three for the 1969-70 season, McMenemy kept faith with the players who had secured promotion. In retrospect this may have been a mistake because although Rovers started the season well, their lack of squad depth told as the season wore on.
McMenemy sold full back Harold Wilcockson to Sheffield Wednesday and acquired Ian Branfoot and Archie Irvine in return.
Both served the club well, but in the short term they featured in a dismal run as Rovers won only once in 16 games.
They finished the season a respectable 11th, but there was a feeling of missed opportunities.
McMenemy lost a key boardroom ally when Wilson was ousted as chairman and replaced by Ben Bailey. Wilson remained a board member until the end of the 1970-71 season when his resignation spelled the end for McMenemy.
The season was a disaster for Rovers who failed to win until the 10th game of the season.
A brief revival featured a 1-0 win at Barnsley, but Rovers then suffered an embarrassing FA Cup exit, at home to lowly Crewe Alexandra.
In January 1971 McMenemy was told that if his team failed to beat Plymouth Argyle at home, he would be out of a job.
Rovers only drew 0-0 but a spirited performance by the players persuaded the board to keep faith with the manager a while longer. By then things were possibly beyond redemption anyway and after Rovers finished 23rd McMenemy was duly fired.
He was out of work for just a week before being snapped up by Grimsby Town, whom he led to the Fourth Division title in 1971-72.
McMenemy went on manage Southampton to the FA Cup in 1976 and later managed Sunderland and worked with England boss Graham Taylor.
Given a little more time, he might have achieved much more than he already had done with Rovers.
Senior record with Rovers
First match: 7th December 1968 v Southport (home) FA Cup Round 2 won 2-1
Last match: 1st May 1971 v Torquay United (away) lost 1-2
P130, W43, D39, L48, Winning percentage: 33.1%