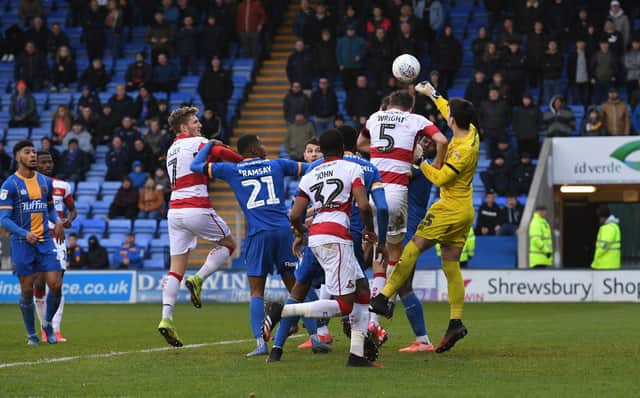 Doncaster Rovers defender Joe Wright puts Shrewsbury Town 'keeper Max O'Leary under pressure at the New Meadow. Photo: Howard Roe/AHPIX LTD.
Here, our Rovers writer Liam Hoden addresses a selection of supporter questions on all manner of topics at the club.
Doncaster Rovers Q&A
Last updated: Friday, 28 February, 2020, 15:55
Rovers reporter Liam Hoden answers your questions
Appearing on a list of companies that had been served winding up orders by HMRC was always going to raise a few eyebrows - and it did for me too, certainly the first time it happened a few months ago.
But there appears to be nothing to be worried about with this situation, which is down to more procedural matters rather than the financial position of the club.
Rovers had budgeted for a certain tax bill last summer but were presented with a larger one by HMRC. An agreement was reached with the tax authorities to continue paying the bill at the rate budgeted for, with the extra money in the bill to be paid at a later date.
Rovers set aside some of their share of the Premier League Solidarity Fund which is paid in January to cover that shortfall. This was all paid up as planned.
The serving of the orders is done automatically seven days prior to the hearing in the High Court. Companies remain on the list regardless of whether the outstanding tax has been settled in the meantime, which is why Rovers were listed as being in court on Wednesday.
The financial situation of the club overall remains stable. There is a reliance on the annual input of Terry Bramall and the Watson family for the club to continuing operating at the levels it is now but chief executive Gavin Baldwin insists there is a certain degree of self-sufficiency which would keep Rovers afloat if the input from the owners ceased.
I would say, with most of the current six loanees, it is looking pretty doubtful.
With Jacob Ramsey, it is not stepping out of line to suggest there is absolutely no chance. From noises coming out of Aston Villa, they see him as a first team player in the future and I think with what he's produced in such a short space of time for Rovers, you can probably see why.
The issues with Seny Dieng and Ben Sheaf mainly lie with them both having time on their deals at their parent clubs beyond the end of the season. Darren Moore insists Dieng is very highly rated at Queens Park Rangers, and believes he will play in the top flight during his career. With how he has performed this season, you'd imagine there would be a string of suitors at a higher level - even if it is another loan move. From what I've been told, Arsenal are expected to look to send Sheaf out on loan to a Championship club next season.
With the Wolves duo of Cameron John and Niall Ennis, there is a similar situation. I understand there was an initial suggestion that Rovers may be able to convert John's deal into a permanent one, if all parties were happy. But the defender attracted plenty of attention from Championship level in the first half of the season, which will undoubtedly have thrown several spanners in the works if a potential deal for Rovers. With Ennis, he signed a new deal until 2022 just before making the loan switch. Wolves will likely also look to get him some Championship football as they continue his development.
The one where there does look to be some chance is Jason Lokilo - Darren Moore has even suggested it himself. Barring a brief spell during Frank de Boer's brief stint in charge of Crystal Palace, the winger has had little opportunity at first team level for the club he joined five years ago. At 21, he needs to truly kick start his career soon. If he can impress at Rovers over the next few months, the Keepmoat might be the place where he can do it on the more longer term.
Indeed, so plenty is to be sorted over the next few months. And plenty to ponder too.
The existing group will be assessed on their potential and how they have progressed under the new structure for the age group which was put in place at the start of the season. The U23s are receiving closer attention and greater scrutiny to ensure they are developing at the correct rate to make them viable options at senior level.
They will also be compared with the next wave progressing through the club's age group system. If a player or two coming through is more highly rated than those already at U23 level, there is a good chance the older player will be shown the door.
And there is also the possibility of adding players to the group from outside the club.
The fresh focus on developing the U23s is done with the goal of creating a strong squad of promising players who could realistically step up to senior level if and when they are required. It will be quite a ruthless process so anyone standing still is unlikely to have a chance at a future with the club.
Darren Moore does not entertain talk of a push for the top six - at least in public. You'll have heard him speaking regularly of only being focused on the next game and not paying too much attention to the league table. Having chatted to him earlier this week about teams up towards the top, I can vouch for him on that front - beyond a handful of clubs he was not particularly aware of just which teams were in exactly what position.
But, do not fall into the trap of thinking that pushing up the table is not on Moore's mind. While there is a genuine focus on the next game, he knows stringing together results is important at this stage of the season. In our chat he may well have mentioned 'this is the time to put a run together.'
This is probably THE most controversial issue of the moment at Rovers - Moore's selection policy.
Personally, I can see both sides of the argument. I have certainly been surprised to see some players drop to the bench after good performances in previous fixtures and I do think there have been occasions when sticking with pretty much the same team would have suited Rovers more.
But I think Moore's methods have also been proved profitable on other occasions. He made big calls over selection on the trips to Peterborough and Sunderland and you could see with the overall performance and how the game played out that he was justified over that.
The problem is, it is always going to be highlighted more when results are not going Rovers' way - as they are not at the minute. This is something Moore has been doing all season - only three times has he named the same starting XI in consecutive matches. Admittedly though, the influx of players in January has increased the options at Moore's disposal and has perhaps led to more eye-catching selection decisions.
In terms of the approach to the opposition, you have to remember that Rovers started the season by looking to impose themselves on every game. It stopped being as devastatingly successful once teams began to try stopping them doing that and it took a long while before Rovers figured out how to overcome such methods. Moore's response to this was to have a strict gameplan for each individual fixture, which brought good success over Christmas and into the New Year.
Unfortunately, that does look to be the case. It's becoming increasingly a fact of life that the gap between League One and the Championship is only growing. Looking at any of the potential promotion contenders this season, I would not be confident that any would have little trouble earning at least a comfortable mid-table finish.
Budgets are not everything - but they do play a major role in where teams finish. The disparity between the two divisions - both actually and potentially - is huge. For example, when heading to a Championship club hardly flush with cash, Grant McCann will have seen the playing budget at his disposal increase by 300-400 per cent.
But if a club can manage to stay up in their first season, there does seem to be a really good chance of building and progressing if things are done right. There are enough basket cases in the Championship to give a well-run club the opportunity to progress in the division.
What I do think will become increasingly important for the ambitious League One clubs is building over the long term with a strong identity rather than simply throwing money at getting out of the division.
Not on a regular basis, no. Talk to the coaches at the club and there is plenty for him to work on as he continues his development. What is undoubted is that he has plenty of potential and knows where the goal is. Getting into positions to have a sight at goal at senior level is very different to U23s and below however. It would be good to see him around the senior squad more but you have to earn that opportunity.