Sky Sports and BBC ensure a great deal for Women's Super League - Sue Smith
The new three-year television deal struck by the Women's Super League is great news for top-division female football in this country, but I hope it is used to benefit the game as a whole.
Monday, 29th March 2021, 6:00 am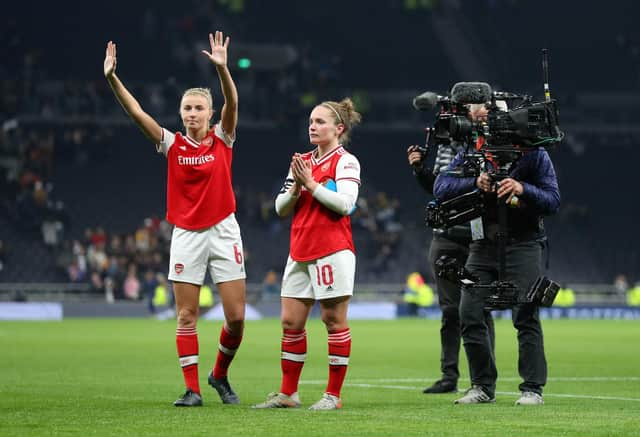 The Women's Super League will be broadcast on BBC and Sky Sports from next season. Photo: Catherine Ivill/Getty Images
It is believed the deal is worth around £8m a season, and I am really pleased 25 per cent is going to the Championship.
Sky will show two fixtures per round, the BBC one, with the rest streamed on the FA Player.
It is one of those deals those of us who love the women's game have been hoping for for quite a while. That it is separate from men's football is huge.
Sky Sports and the money it has pumped in has taken the men's Premier League to a new level since 1992, and I hope it can do the same for women's football.
I always say the WSL is the best league in the world but covering Manchester City's 3-0 Champions League quarter-final first leg defeat in Barcelona on Wednesday was a reminder we cannot be complacent.
The WSL attracts many of the best players in the world, like Pernille Harder, who scored the winning goal as Chelsea beat Wolfsburg in another last-eight tie, but it really needs a Champions League-winning team, something only Arsenal in 2007 have done in the history of the competition, to back that up.
Lyon have won the last four titles and seven of the 11 finals they have been in since 2010. They and Barcelona are out on their own in their domestic leagues but England has more depth.
In my playing days, I got a few offers to play in Iceland and was tempted when a few of us got one from America after the 2009 European Championships.
I knew quite a few players who went there to play and study at university and they loved it. The Americans take women's football so seriously and the clubs give great support.
As a bit of a homebird, though, I was hoping our league was about to really take off and did not want to miss out.
Players like Manchester City's Sam Mewis are coming in the opposite direction because even though she has played international football for the best team in the world, she really wanted to be involved in the Champions League – and to win it.
As well as the money to keep and attract top players, visibility is important, too, which is why it is such good that games will be shown live on the BBC, who have committed to putting 18 of their 22 matches on BBC One and Two.
It is the best of both worlds: the money and the promotion Sky can provide – I hope we might see a women's "Super Sunday", more coverage on Sky Sports News and so on – as well as the wider exposure available on the BBC.
My role models as a young girl were all men because I did not really see female players, except for in the FA Cup final once a year, but we want girls to aspire to be the next Steph Houghton or Lucy Bronze, and seeing them in action will only help to encourage more to play the game.
For this deal to be coming off the back of a home European Championships next summer, where games will be played at Bramall Lane and the New York Stadium amongst others, it should help turn more people into fans of women's football.
But this should not just be about the very top end of the game, or even just players.
It is great we now have a full-time WSL. In my playing days many "full-time" players did not earn enough to live off, and had to do other jobs as well.
In the second tier, the Championship, most clubs are still part-time, and it would do a great deal to raise standards if clubs like Sheffield United were able to go full-time as a result of this new money coming in.
The standard of officiating in women's football is not good enough, something Manchester United manager Casey Stoney and Chelsea's Emma Hayes have spoken about this season, but it is no surprise when you consider the referees are part-time. Hopefully that can change, too.
I hope young girls who do not think they are cut out to play at the top level see women refereeing and coaching in the WSL and are inspired to go down that route.
There needs to be investment in the stadia, too, and we do not want to see as many games called off because of the weather as there has been this season.
So I really hope the money trickles down and as well as more world-class players in the WSL, it also leads to more girls playing football and receiving better quality coaching.