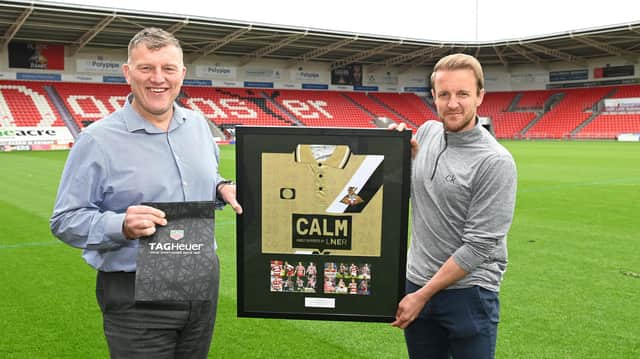 Gavin Baldwin with Rovers adviser James Coppinger
Rovers will carry in the new season around £1million of debt accrued since the start of the pandemic.
But chief executive Gavin Baldwin told the Free Press the playing budget is on course to be increased by 23% and back to pre pandemic levels
It has been the positive response with season ticket sales that has given the Rovers board renewed confidence of their financial position, with more than 1,500 supporters already purchasing within the first week of sale, though Baldwin admits there could be more tough times ahead.
Online sales of season memberships were strong while there were queues outside the Keepmoat ticket office on Monday as in-person purchases began.
"We've carried a £1million worth of debt into this year from last year," Baldwin said.
"That is down to HMRC liabilities, player wage deferrals, the EFL loan debt, etc. We have got just over £800,000 of HMRC debt to carry into next year. That's on top of our normal debt that we'd have in 12 months.
"We've got a plan for covering that and the owners act as a backstop to that, which they've been incredible with.
"But if we had that debt and then a bad period with season ticket refunds and renewals, it would really, really hurt us.
"I am so pleased that season tickets have been doing so well so far because it's given us the ability to plan for next season and do optimistically rather than being cautious."
The playing budget is currently projected and could drop if season membership sales slow below expected levels or there are a large amount of requests for refunds from last year's unused tickets.
The latest recruitment meeting will also take place this week with boss Richie Wellens presenting his case for the next wave of player acquisitions having secured his initial targets.
Baldwin remains confident that the budget available to the Rovers boss will remain at the top projected level through the summer.
"If season tickets hadn't gone well and talks with commercial partners hadn't go ne well, the decision would have been with the owners to either rein it in or plug bigger gaps," Baldwin said.
"The fact that season tickets have gone so well means we're really optimistic that we can stick with the top amount.
"I spoke to three chief executives last week and because of the fact this year is harder than last financially in theory due to accruing the debts, their playing budgets have gone the other way.
"The fact ours has gone up makes it relatively bigger than the amount it has gone up.
"We have been nervous about season tickets but we've been really pleased with the response."
Coffers have also been boosted by the ability for Club Doncaster as an organisation to return to something much closer to normal trade following the lockdown.
The reopening of the soccer centre and gym, plus the return of events such as the weekly car boot sale have bolstered incomes alongside the use of the Keepmoat site by various NHS services including a Covid vaccination centre.
Extra funds put in by the Rovers owners to help the club through the pandemic were also written off by being converted to shares before the end of the financial year, further reducing the potential for a debt burden.
Baldwin said: "The wider Club Doncaster is generating significant funds again on an on-going basis.
"Therefore, if we do not end up in another lockdown and Club Doncaster can continue to generate funds, those debts will be in the cashflow.
"The owners have always said to us they will act as the backstop and will cover the gaps. But they also want, quite rightly, for Club Doncaster to work hard to try to cover as much of the debt as possible.
"The big fear for us was that season tickets would not go well and the commercial conversations would not go well but we're really optimistic after the first stages of season ticket sales.
"The financial status of the club is significantly improved because Club Doncaster wrote off any loans and converted into shares that DRFC had. That's effectively the owners writing off their loans and that was high seven figures.
"The financial status has never been better and cash flow, we've got a plan for next year.
"Next year will be tougher because we won't have government support and we're carrying debt forward.
"But that is where we're really fortunate that we have revenues outside football that can support those and have enabled us to be optimistic with the playing budget.
"And we're aware of some clubs that cannot be as optimistic and are reining it in from last year."
The Rovers chief executive believes clubs will not be clear for some time of financial worries arising from the pandemic and some will face a variety of restrictions and challenges as they look to navigate through the coming years.
"Some clubs I'm sure will struggle to deal with that," he said.
"If you don't clear the HMRC debt, they will obviously pursue you but you will also end up with a transfer embargo.
"You can see the implications that will happen through football.
"We have that within our cashflow and we have revenues coming in that will cover it.
"It's going to be tough for us and it will be tough for other clubs."
*