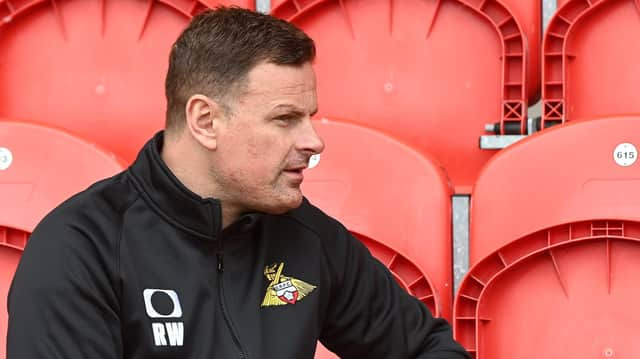 Richie Wellens
Four new faces have arrived at the Keepmoat to date during Wellens' tenure and he believes the club as a whole has done a wonderful job selling itself to prospective signings.
The style of the Rovers boss in negotiations is typically forthright - if he does not believe a player is genuinely interested in joining or is attempting to squeeze every last penny he can from talks, Wellens will move on to a different target.
But he says Kyle Knoyle, Ben Close, Ro-Shaun Williams and Tommy Rowe have been a pleasure to deal with when sitting across the negotiating table.
"Every player we've signed I've looked in their eyes and could tell they wanted to come," he told the Free Press.
"In Kyle Knoyle's case I could see he was desperate to come. He wanted this to be the next step of his career.
"Ben Close - to prise him away from a deal he's been offered at Portsmouth and not give him any more money than what he was on, it's a tremendous signing.
"It shows what the lad's motivations are. He wants to come away from his hometown club, he wants to crack on with his career and he wants to get to the Championship.
"All of the signings have been the same. They really want to be at the club."
Assessing the business completed so far, Wellens says he has not needed to veer away from his prime targets in the positions in which he has recruited.
The names of all four players signed were discussed at the first recruitment meeting held after Wellens' appointment, with talks beginning quickly afterwards.
He also referenced the departure of left back Reece James - whom he was keen to keep - and believes he would have also chosen to commit his future to the Keepmoat had he not received his offer from Championship-bound Blackpool.
"So far we've got our number one targets," Wellens said.
"It's not like we've had meetings with players and come away disappointed.
"I think the way we've sold the club and the club has sold itself has been really positive. I think people can see what we're trying to do and that's shown in every transfer so far where we've got our first targets.
"To be fair to Reece James, he said he wanted to stay but if he got a Championship club, he'd want to explore that, which we totally got.
"I think if he hadn't got a Championship club, he wouldn't have gone to another League One club other than Doncaster.
"And we've managed to sign what I think is a like-for-like replacement in Tommy Rowe.
"We've started really well, really positive and I can feel the energy we're starting to brew up.
"We've just want to continue that leading into the final week before pre-season and when we get together on the Monday, continue that momentum."
The Rovers squad will report back for the first day of pre-season training on Monday.
*