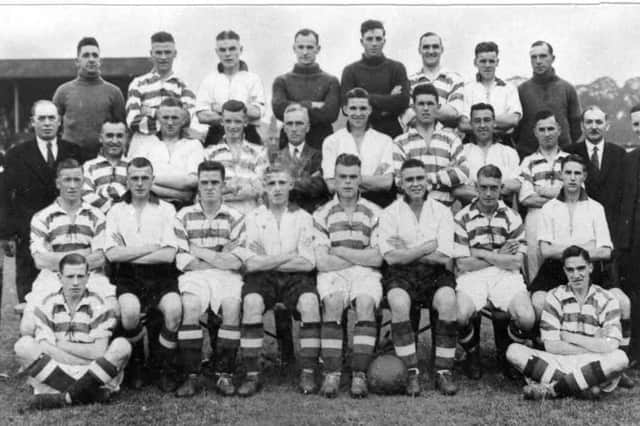 Doncaster Rovers 1934-35. David Menzies is pictured in the middle row, furthest left.
Keep an eye on Free Press Sport over the coming weeks as Rovers historian John Coyle profiles the club's best bosses.
5 DAVID MENZIES (1927-1936)
Dick Ray's successor was a man whose playing career had been modest but who already had sound managerial experience.
David Menzies, a Scot from Kirkcaldy, had played without much distinction for Raith Rovers and Bradford City.
He became assistant trainer at the latter club before moving to Hull City for seven years, five of which he served as manager.
In 1921, he returned to Valley Parade as manager, resigning in 1926 to make way for Colin Veitch.
When the Rovers job became vacant in the summer of 1927 Menzies jumped at the chance to return to football management.
Menzies inherited an improving team and in his debut season, 1927-28, Rovers finished fourth in Division Three (North), the highlight being a nine-game winning streak between September and November 1927.
Tom Keetley knocked in 36 league goals that season and did even better with 40 in 1928-29 as Rovers finished fifth.
There were clouds on the horizon: in October 1928 Keetley demanded a transfer and when he threatened to quit football at the end of the season, the board reluctantly allowed him to move to Notts County.
Keetley was not the only player to depart, and although the sales brought in much needed cash, Rovers' results suffered.
Menzies and his team experienced three seasons in the lower half of the division, with falling attendances at a time of economic difficulties making the manager's task all the harder.
The fight back began in 1932, when Menzies appointed the long-serving Fred Emery as captain at the start of the 1932-33 season.
The new skipper led Rovers to a much-improved sixth place. Menzies introduced youngsters such as Stan "Dizzy" Burton, Bert Turner and Ronnie Dodd.
Fifth place in 1933-34 was followed by Rovers' first ever Football League title when they won the Division Three (North) championship in 1934-35.
Perhaps Menzies' greatest contribution was to persuade the board to spend money to sign the experienced Reg Baines from Sheffield United.
The striker joined when results were tailing off and Rovers were having problems finding the net. Baines netted 21 times in 27 league games and helped secure the title.
Menzies' charges made an impressive start to their Division Two campaign and they had a spell in second place just before Christmas 1935 before a run of poor results saw them slip back to mid-table.
It still came as a massive shock when in February 1936 Menzies tendered his resignation in order to return to his old club, Hull City.
He had been offered a substantial rise in salary and a long-term contract as Hull sought to climb away from the foot of Division Two.
His departure was a huge blow to Rovers as he was a hugely liked and respected figure at the club.
The directors and players both made presentations to him and he left with a vote of thanks at a supporters' club meeting.
Sad to say, Menzies' second spell in charge at Hull did not last long.
In October 1936, only months after leaving Belle Vue, he died suddenly from a heart attack.
The man who had brought Rovers their first Football League divisional title was only 58, and his passing was greatly mourned in Hull and Doncaster.
Senior Record with Rovers
First match: 27th August 1927 v Lincoln City (home) won 3-0
Last match: 26th February 1936 v Bradford Park Avenue (away) lost 1-3
P388, W173, D78, L137, Winning percentage: 44.6%
Join the discussion: Who's the best Rovers manager in your opinion? Email your thoughts to [email protected]