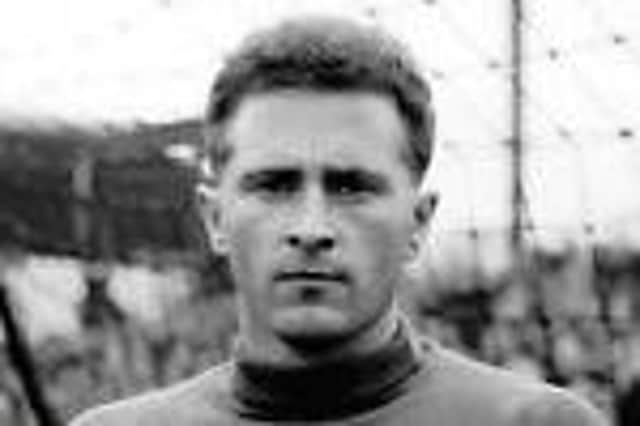 Harry Gregg
And the time has come to reveal who is in top spot – it's former Manchester United legend Harry Gregg.
Harry Gregg is considered by many to be the finest goalkeeper to play for Manchester United. He made over 200 league appearances for Matt Busby's side and won the FA Cup with them in 1963 and the Football League title in 1964-65. He also earned 25 full international caps for Northern Ireland and played a heroic role for them in their World Cup campaign in Sweden in 1958. Yet he struggled to establish himself in the Rovers side and only in his final two seasons at Belle Vue could he have been described as first choice.
Gregg joined Rovers from Coleraine in October 1952, having been spotted by manager Peter Doherty's extensive network of Irish scouts. He did not have long to wait for his debut, replacing the unwell Ken Hardwick for the thrilling 3-3 draw with Blackburn Rovers in January 1953. Harry had the misfortune to dislocate his elbow and did not return until given the last seven games of the season. However, the next two seasons were frustrating, and he could not force his way past Hardwick. Despite this, Northern Ireland capped him in March 1954, the selectors recognising his immense promise.
His luck finally changed in January 1956 when he replaced Hardwick and he did enough to remain in possession of the jersey for the rest of the season. Not only that, but in 1956-57 he missed only two games, and on both occasions, he came straight back into the side. Hardwick was now very much the deputy, and he moved on at the end of the season. Gregg was also Northern Ireland's No.1, and between October 1956 and December 1957 he won eight caps, playing a huge part in their qualifying campaign for the 1958 World Cup.
Gregg's form had not just been noticed in Ireland. Matt Busby was on the lookout for a new goalkeeper and in December 1957 he paid a fee of £25,000 to take Gregg to Old Trafford. This represented a record for Rovers for a player sold, but did not go down well with the fans, or with Peter Doherty who left the club soon after. Gregg had not been with Manchester United for long when the club suffered the tragedy of the Munich air crash. Gregg, shaken but unhurt, showed great courage in helping his team-mates and other passengers out of the wreckage and risked his life to save a female passenger. He was soon back in goal for United and went on to establish himself as one of their finest players.
In 1966 Gregg left Manchester United to become Stoke City's player-coach, but his career was then ended by a serious shoulder injury. He went on to manage Shrewsbury Town, Swansea City, Crewe Alexandra and Carlisle United without much success and was goalkeeping coach at Old Trafford. After leaving there in 1981 he moved back to Northern Ireland to become a successful hotelier. In 1995 he was awarded an MBE for his services to football in Northern Ireland. Few have deserved the honour more.
Born: Tobermore, 27th October 1932
Died: Coleraine 16th February 2020
Signed for Rovers: October 1952 from Coleraine
Left Rovers: December 1957, transferred to Manchester United
Appearances: League 94, Cup 5