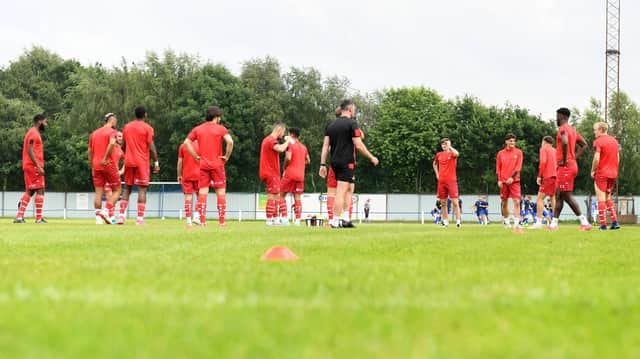 The Rovers squad warms up proper to the friendly with Rossington Main at Oxford Street. Picture: Andrew Roe/AHPIX
Join us from Oxford Road as we bring coverage of the first friendly of the Richie Wellens era - and the first time supporters can see Rovers in the flesh for 16 months. Remember to REFRESH regularly for the latest updates.
*
Rossington Main 0 Doncaster Rovers 4
Last updated: Saturday, 10 July, 2021, 16:56
GOALS: Barlow (35, 40, 43), Oteh (66)
First half: Jones; Knoyle, Blythe, Williams, Rowe; Smith, Bostock, Close; Barlow, Bogle, Gardner.
Second half: Jones (Bottomley 64); Seaman, Akinola, John, Flanagan; Greaves, Bailey, Colkett; Thomas (Hasani 56), Oteh, Horton.
Not the greatest, but it shook a few cobwebs off
That wasn't the most spectacular of performances from a Rovers perspective and, in truth, it was a bit of a slog at times.
But it will have succeeded in shaking off a few cobwebs while giving Rovers the chance to put into practice a few bits and pieces.
No doubt the name of trialist Aidan Barlow will be buzzing around supporters after his first half hat trick.
All over
It's a 4-0 win for Rovers at Rossington Main, with a hat trick from Aidan Barlow and a Aramide Oteh penalty.
90 Over the bar
AJ Greaves curls narrowly over from 20 yards in the final act of the game.
82 Great effort
A nicely worked free kick from Rovers sees the Charlie Seaman chest the ball down and lash a volley narrowly wide of the near post.
Steady from Rovers
It's been lots of possession for Rovers so far in this second half for Rovers without the penetration they enjoyed in the first half.
66 GOAL Rovers
After a bizarrely timed drinks break between the awarding of the penalty and the taking of it, Aramide Oteh slams home from the spot to make it four for Rovers.
Ben Bottomley replaces Louis Jones in goal as we have a drinks break
PENALTY TO ROVERS
Aramide Oteh is clipped by the Rossington keeper and the referee awards a penalty
56 Substitution
Trialist Nathan Thomas has been forced off through injury with Lirak Hasani coming on.