Live

RECAP: Doncaster Rovers 1 Peterborough United 4 - Rovers suffer heavy defeat in James Coppinger's final match
Doncaster Rovers lost to promoted Peterborough United in embarrassing fashion in James Coppinger's final game for the club.
Sunday, 9th May 2021, 9:00 am
Updated
Sunday, 9th May 2021, 2:04 pm
A much-changed Posh outfit raced into a three-goal lead after just 16 minutes and added another one before half time.
Coppinger came close to marking his final appearance with a goal but saw his second half free-kick come back off the bar.
Tyreece John-Jules scored Rovers' consolation in stoppage time.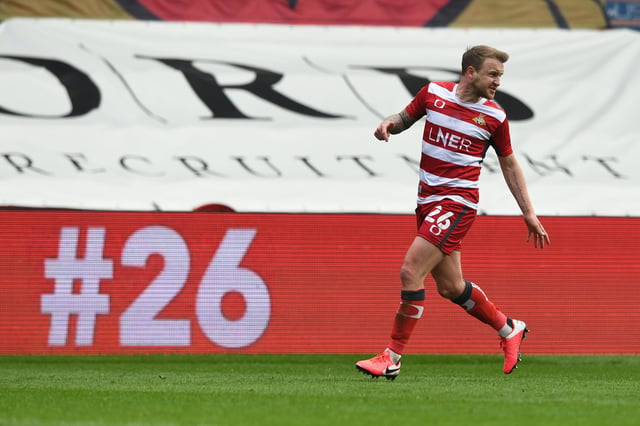 James Coppinger
The defeat saw Rovers finish 14th in League One.
*
LIVE: Doncaster Rovers 1 Peterborough United 4
Last updated: Sunday, 09 May, 2021, 14:08
KEY POINTS
- GOAL: Eisa (6), Mason (8), Kanu (16), Jones (39)
- James Coppinger makes his 695th and final appearance for Doncaster Rovers
- ROVERS: Jones; Wright (Halliday 28), Anderson, Butler (Blythe 46), Horton; Greaves (Sims 46), Smith; John-Jules, Coppinger (Williams 82), James; Bogle (Gomes 71). Subs: Bottomley, Amos.
- PETERBOROUGH: Pym (Blackmore 83); Burrows, Kent (Nascimento 74), Edwards, Mason, Ward (Blake-Tracy 68), Reed (Barker 83), Hamilton, Eisa, Kanu, Jones (O'Connell 83). Subs: Thompson, Beevers.
Just not the way it was meant to be.
An awful end to the season and far from the apt send-off for James Coppinger we all hoped for.
Plenty to pick apart again.
90+2 GGGGOOOAAALLLL ROVERS!
Tyreece John-Jules pulls a goal back in stoppage time
82min Substitution - and that is the end
Ed Williams replaces James Coppinger - for the final time...
71min Substitution
Omar Bogle is replaced by Madger Gomes
64min Coppinger close again
And with a diving header too.
He met a cross with a diving header and sent it over the bar. Surely he's going to score today
58min Off the bar again
A really good attacking move from Rovers. The ball is fed in to Omar Bogle who flicks it on for Josh Sims. The Southampton winger drills a low shot which kicks up onto the bar and is cleared away.
Rovers are indeed knocking on the door.
55min Brighter from Rovers
They've actually had some decent chances!
Reece James went close with a strike from distance, Josh Sims saw an effort deflected wide and Omar Bogle has put a header on goal from close range.
The comeback is on folks!
51min OFF THE BAR JAMES COPPINGER
A free kick in a great position, there was only one man who was going to take it.
And James Coppinger curls a beauty on goal that rattles off the bar.
Would have been some moment, in spite of the scoreline.
46min Double switch
Andy Butler and AJ Greaves are replaced by Ben Blythe and Josh Sims.
12.54pm That's the break
And that was absolutely awful from a Rovers perspective.
So feeble in defence, disorganised and so easy to pick off. Peterborough have been rampant and Rovers have barely got out of bed.