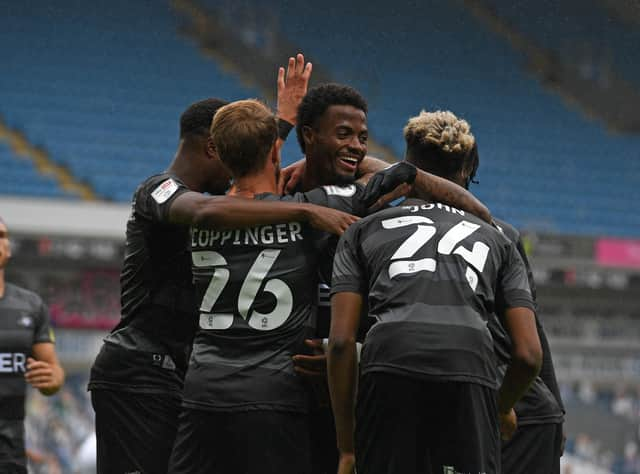 All smiles for Madger Gomes after netting against Blackburn Rovers. Picture: Andrew Roe/AHPIX
But after netting his first goal for Doncaster Rovers in Saturday's defeat to Blackburn Rovers, the Spanish midfielder is looking for more.
"I'm very happy," the 23-year-old said.
"I do not usually score goals so I am happy but I'm just disappointed that we did not win.
"Hopefully I can score more goals for the team.
"Always in training I try to score more goals but I do not usually get chances.
"Today I had three or four chances to shoot and I tried. I was lucky that one went in.
"But hopefully this season I have more chances to score more goals."
Rovers struggled in the first half but improved dramatically after the break to turn the game on its head before slipping to defeat.
Gomes believes having a shortened pre-season took its toll on the side.
"I feel like for everyone the first half was hard," he said. "We were tired. We played on Wednesday and then today against very good opponents.
"We haven't played for a long time and I think for everyone it was hard because the fitness is not 100 per cent and we tried to do the best we can.
"It was difficult because we have new lads and we are not used to playing all together.
"We need to continue doing what we did today and I think in the future we will do better."
*
Thank you to all who support local journalism with a print subscription.
The events of 2020 mean trusted, local journalism is more reliant than ever on your support.
We couldn't do it without you.
Please subscribe here https://www.localsubsplus.co.uk/ so we can keep campaigning on your behalf.
Stay safe.