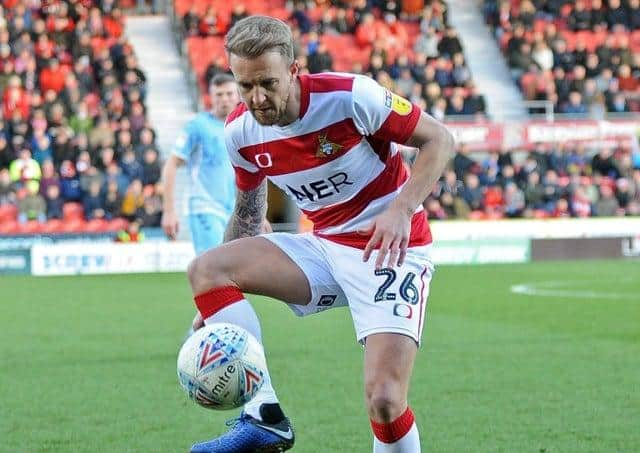 James Coppinger playing for Doncaster Rovers in January (Picture: Marie Caley)
This summer, like several others before it, Doncaster Rovers' all-time leading appearance maker is contemplating his future.
Unlike previous close-seasons, Covid-19 is now on the landscape, but for Coppinger, it does not impact on his thought process.
Out of contract at the end of June, the Rovers legend has held preliminary discussions with the club he loves about donning his boots for a 17th consecutive season in 2020-21.
The Coronavirus pandemic means that extended talks may currently be on hold, but Coppinger wants to play on.
Just as the government say they are guided by the science in their approach to easing lockdown, so the 'Peter Pan' of lower-league football is guided by his own data at the ripe old age of 39.
On the prospect of retirement, Coppinger – who made his Rovers debut back in August 2004 – said: "I think it is when you lose that appetite to want to get out, stay fit, kick a ball and compete.
"For me personally, in the latter stage of this season, I was not used as much as I was at the start, but I am 39 and have got to be realistic in where I am at.
"After the two weeks (rest) I had going into the next game, I felt unbelievable. I think that is what I needed.
"The longer the season goes for me, the more difficult it can be. You do put a lot into the season from July – it is seven months of going at it and playing a lot of minutes until January.
"We will just see what happens and what position the club is in. I have had contact with the club and manager and it is a matter of seeing the next stage and how the situation is.
"After reaching 35, every year I have tried to earn a contract and I feel like I have done that. I have had the most assists in our team (in 2019-20) and am up there in the division, despite not playing as many minutes. I feel like, just because of my age, I shouldn't go: 'yes, that's it.'"
You would think that when Coppinger calls it a day, the one thing he will not miss is the daily grind of the commute to training from his home on Teesside. But he takes a different slant.
The midfielder, who has made more than 600 appearances in all competitions for Rovers, added: "I do enjoy zoning out in the car and focusing on other things.
"I can make a lot of calls and that three and a half to four hours in the car is my time to myself. In the house, it is a constant fight to get on with other things."
Given his seniority, it will come as no surprise that Coppinger – despite retaining the thrill of being a professional footballer – is planning for the future.
The here and now is keeping fit remotely in readiness for when football returns in League One and looking after his three children with his wife – a paediatric nurse – being a key worker.
The short-to-medium-term surrounds playing football before attentions turn to the longer term. Coppinger said: "I have looked and delved into different things and have had offers from different people in terms of mental health and talking about different things and been offered a couple of jobs here and there.
"I have started my own acquisitions company buying businesses and have been doing that for the last 18 months. I am really enjoying that.
"I have also got heavily involved in my local non-league team Guisborough Town and have been helping them from the junior section to the elite academy and helping with the first team and restructuring everything.
"Once I stop playing, I am looking for something which I enjoy and can put as much passion and commitment into as I did in my football career."
For Coppinger, the first part of the summer is usually a time for rest and recuperation and holidaying with the family, not for playing football.
This year may be different if League One clubs fulfil their commitments for 2019-20, although it represents a very big 'if'.
The chances of third-tier teams resuming the season look remote with the majority of clubs likely to prefer a cancellation as opposed to carrying on, with a final decision poised to take place in the first half of June.
Offering his own take, Coppinger said: "I just feel like it is going to be so difficult to get back up and running with the financial implications.
"Take the Covid-19 out of the equation, you are still going to struggle to get back into the swing of things. It is so difficult for everybody to understand what the right thing to do is as it will have so many knock-on effects for finance and health with fans and crowds."