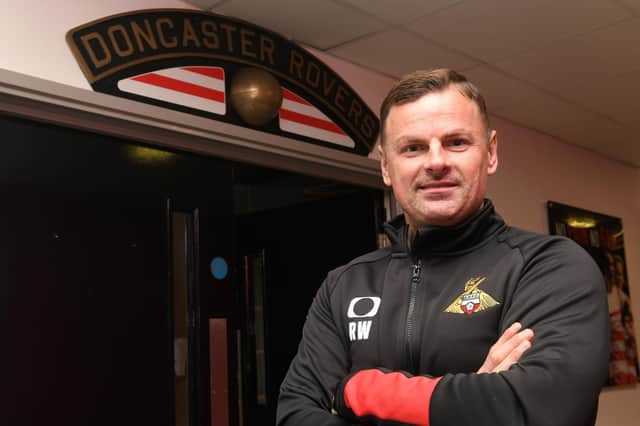 Richie Wellens is the new manager of Doncaster Rovers. Picture: Andrew Roe/AHPIX
But how has the appointment of the popular former midfielder for the club gone down with supporters? We asked our Fan Panel members to give us their views.
JAMES BELLAMY
After a season that fell apart from just into the new year, the appointment of Richie Wellens is a sign of intent from the Rovers board in my opinion.
In a relatively short time in management, he has shown a track record of delivering results and trophies.
As a player, Wellens was a winner. From listening to his comments on his playing time at DRFC he set high expectations of the players around him and would not be afraid to call people out if they did not meet those standards.
His mentality on the game does not appear to have changed now he has gone to management.
For me, this style of leadership is required to ensure we challenge effectively.
Under Moore, we missed a ruthless and "dark arts" approach we had seen previously under McCann. This side of the game is something I feel Wellens will bring back to the club, breeding that winner's mentality he played with.
Alongside this, Wellens seems determined to play an attractive, attacking style of football, again something we have lacked in much of last season.
Providing he is backed to succeed and recruits effectively, the sky's the limit for the club next season and beyond.
This could be as close as we will ever see again to the O'Driscoll era, a full Keepmoat and leaving it feeling fully entertained.
Despite all of that, the challenge ahead of him is huge. A rebuild of the squad mainly from top to bottom and a culture change from the easily defeated showings of the last few months.
For me, time is the most important thing in this scenario. He may not get the exact squad he wants this season, the scope of the rebuild before him may prove too much straight away.
Providing he shows the signs of taking the team in the right direction and he delivers the football he talks of, this could be a very strong managerial appointment.
LIZZIE ROBINSON
Surprisingly, I'm miles more excited now than I expected to be a week ago when there was still plenty of doubt surrounding who would be the next man to take the helm at the club.
I was never as taken by Wellens as a player as the majority of Rovers fans, and - although there is no doubting he is one of the greatest midfielders of my lifetime - I always preferred the likes of Brian Stock and Mark Wilson when I was growing up and in his second spell I seemed to spend most of my time rolling my eyes at his use of back-heels inappropriately in League One.
Despite this, the six minutes of interview released shortly after the announcement have alleviated any of my doubts.
It has been a long time since we've heard a manager speak with such confidence, conviction and genuine earnest instead of a pre-written and universally agreed upon set of vague, buzz-word filled catchphrases.
He spoke of taking "Rovers" back to the Championship, and set goals to build a home in Doncaster and recreate the magic of the hallowed Sean O'Driscoll period, which he clearly holds as dear to his heart as all of us fans do.
In addition to this, on a closer examination of his record as a manager, it really looks like he is ready to take a club to do greater things.
What he achieved at Oldham and especially Swindon is not something to be frowned upon and has a lot more substance to it than the accolades and achievements of Grant McCann (under whom we played some of our best football of the last decade).
The next big test will be recruitment. Richie's interview already alluded to an awareness of just how much needs to be done this summer.
Who will his landmark signing be? Will he decide to continue negotiations with Haliday, Wright, James and Lokilo or search elsewhere?
What will he prioritise; youth with potential or experience with character? How will he build a squad that is capable of a top six finish?
I guess we'll have to await the answers to these questions in the summer, and that is truly something to be excited about. I'm giddy just thinking about it.
I'm ready to scream and shout when I'm finally back in the West Stand, cheering on some 'Wellensball' and getting giddy about what this season might have in store.
Let's all (as fans of this football club) get behind him, and bring on next season! Fingers crossed we get to see the classic short sleeves and gloves make a reappearance on the touchline as well.
KIERAN O'MALLEY
Well, he was never my first choice but since last week when the news broke that he was the favourite, the more I have thought about it the more I like the appointment.
The only reason why he wasn't my first choice is purely because I don't want his reputation he had as a player ruined by failing here as a manager, similar to what could have happened with Andy Butler.
One thing this fan base has needed after how last season finished is this appointment. Someone who knows the club, is loved by the fans and plays a good style of football that can hopefully roll us back to the SO'D years.
People have doubts over Richie Wellens which is understandable but he has a promotion with Swindon and a cup win with Salford on his CV, which is much more than what Darren Moore and Grant McCann had.
It's time for fans to get behind Richie and the team and see what team he can build going into the new season. A huge task lies ahead for him and I can't wait to see how it pans out. In Wellens we trust.
DANIEL NICE
When Richie Wellens and Stephen Robinson were all but confirmed as being on Doncaster Rovers shortlist, there was a common denominator that allowed the process to sit comfortably.
Wellens was a key midfield cog in Sean O'Driscoll's wheel at Donny while Robinson spent time with him at Bournemouth as well as working at Oldham together.
There was another option but Rovers surely needed someone with managerial experience so the choice was simple to my mind: a return of an old favourite or a completely fresh pair of eyes.
I think the Board has made the sensible call although admittedly O'Driscoll came from the second route. This time a return to club values is more important than when O'Driscoll walked through the door.
Wellens and Rovers share a lot of common ground, not only in understanding of what is both required and can be achieved, but also a preference for possession-based football and a need for stability.
While Darren Ferguson, Grant McCann and Darren Moore all built decent sides at Rovers there was never really an air of permanence about any of it.
Something special developed under O'Driscoll because of his style of play, loyalty and a belief in the bigger picture. We've lost sight of that somewhere along the way.
Wellens himself admits his career can only really be described as having potential because a lack of time spent at one club has quickly become a lack of time spent at three clubs.
When Moore took the job, Wellens was building something good at Swindon. Now could well be his time.
Any critics of Wellens as a character are possibly misinterpreting the mindset and actions of someone with high standards running through their core.
He came through the ranks at Manchester United when winning was second nature and failure meant you headed to the exit. That upbringing will have shaped his footballing career without doubt.
In the longer term at Doncaster Rovers, Wellens is here to win respect and football matches, not friends.
But although this is not an exercise for publicity purposes or to win any popularity contest, supporters are naturally more likely to give Wellens the benefit of any doubt as he looks to rebuild.
It is a win-win appointment; fans who adored Wellens as a player will back him, and to be blunt, if his straight-talking, no-nonsense style doesn't sit well with anyone then it actually makes him the best candidate given where Donny find themselves currently.
Make no bones about it, a team that looked set for the top six was heading towards the bottom four and had the season been a few weeks longer, Rovers may well have been heading out of the trapdoor. It was scarily reminiscent of the last time it happened.
If there is a time for a few home truths it is now. If there is someone to tell them and to then move on and rebuild a side that represents the Doncaster Rovers we know and love, it is Wellens.
*