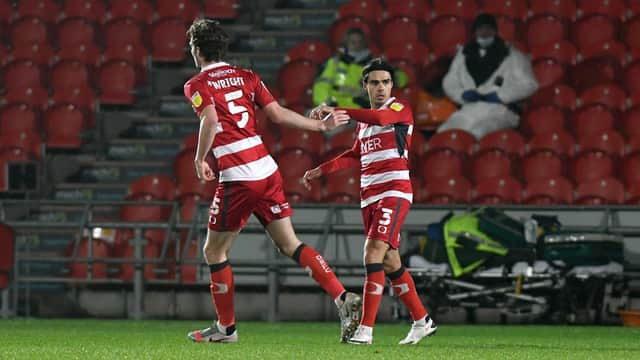 Reece James and Joe Wright are both out of contract in the summer. Picture: Andrew Roe/AHPIX
Rovers will see 11 senior players come to the end of their deals in the summer.
Previous manager Darren Moore elected to delay talks with players at several points over the last few months.
Butler is keen to commence formal negotiations as soon as possible and will look for the green light to do so when he meets with the board later this month.
"The first thing I said is I want to sort out contracts and get players signed up for Doncaster Rovers that want to be at Doncaster Rovers," he said.
"I think it's vitally important that you keep a core group of players and it's something we'll sit down with the chairman, Gavin [Baldwin, CEO] and Adam [Henshall, head of talent identification] and speak about.
"I want it to be sorted pretty soon.
"I've got a meeting with the board in the middle of this month and that is something I want to get sorted personally.
"I've been speaking to Gavin and the chairman and it's something they are keen on as well.
"They want to get sorted and make sure we've got the group tied down for next year.
"The last thing you want is to go into a season empty. You want to make sure the squad is right for next season to hopefully continue and improve what we've got."
The likes of Joe Wright, Brad Halliday and Reece James will all see their deals expire at the end of June.
Butler feels doubts over their futures are something the players do not need heading into the crucial period of the season.
The 37-year-old himself experienced having to wait until late in the season for contract talks during his previous spell at the club and found himself without an employer last summer prior to re-joining Rovers.
"It's an added issue that players don't need," he said. "I want them to feel relaxed and part of this team because that's what I want to build on.
"I want the players to represent the club and myself and the only way to do that is to have security.
"I want that from them, to be honest with myself if they've got thoughts.
"Football is a strange old game. The higher you go you tend to get rewarded with longer term contracts.
"For those lower down it's maybe one or two years. For people who don't live in this area it's a big commitment to move for a one or two year contract.
"I want to make sure people feel like they're needed and wanted around this area.
"It's important you get the family settled and you're not dragging them about from place to place.
"I've been in that place this year, scraping around for a contract, so I want to make sure it's the last thing they have to worry about.
"You might be a tackle away from the end of your season so I want to make sure that they're comfortable that if anything happens then their mindset is right."
*