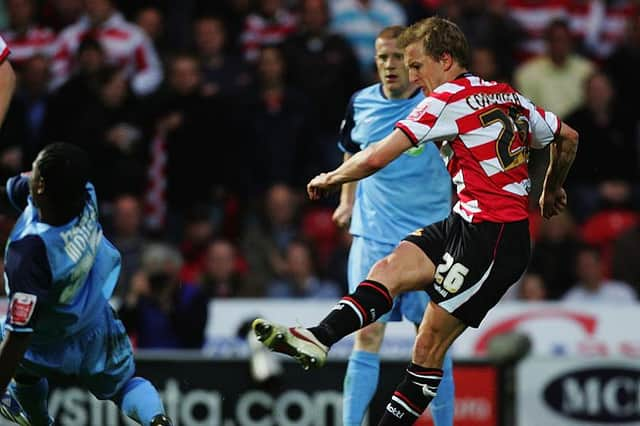 James Coppinger, pictured scoring one of his three goals against Southend in the 2008 League One play-off semi-final. Photo: Matthew Lewis/Getty Images
Joining the club just three years after I started watching us at Belle Vue, Doncaster Rovers without James Coppinger seems very hard to comprehend. He is a childhood and adulthood hero to many.
Loyalty is hard to come by these days as this club has well seen over previous seasons. Football has changed in a way where it will be unlikely to see his dedication to one club mirrored.
That said, it goes beyond the loyalty. He has produced breathtaking football year on year, from season one through to his handful of goals this season.
Never blessed with too much pace, the way the man glides past defenders, chopping and changing in trademark style will never be forgotten. A man that made many fall in love with the game.
He leaves so many lasting memories which I, my dad, my friends and many others have watched together from the stands.
To you Copps, it won't be the same without you.